Opening
Downtown Denise Scott Brown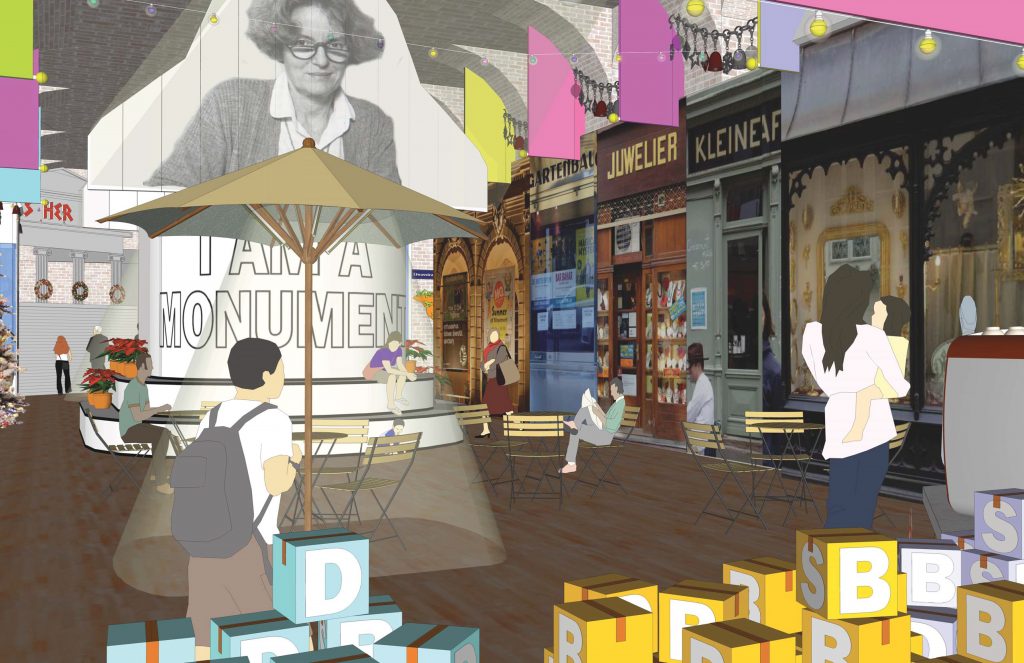 For 50 years Denise Scott Brown has shaped the course of architecture. It's time for the world's first extensive solo exhibition on the work of this 86-year-old architect, urban planner, educator, and writer.
'Downtown Denise Scott Brown' celebrates Scott Brown's ideas and impact by creating an ersatz urban environment in the Architekturzentrum Wien's exhibition hall – a fantasy fountain square with imaginary shops and signs celebrating the wide universe of Scott Brown's life and work. Exuberant 'shop windows' display archival objects, photographs, collages, quotations, plans, and videos. The exhibition's focus spans from her childhood in Africa to her travels around the world – from her photographs, writings, and ground-breaking studies like Learning from Las Vegas to her urban planning, advocacy, and architectural work on four continents.
Speakers:
Angelika Fitz, Director Az W
Katharina Ritter, Curator Az W
Jeremy Tenenbaum, Concept and Design
Denise Scott Brown, Architect (via video)
Veronica Kaup-Hasler, Executive Councillor for Culture and Science
The exhibition catalogue is published in the form of a guidebook, Your Guide to Downtown Denise Scott Brown.  It explains the genesis of the exhibition while leading readers through Denise Scott Brown's life and work, accompanied by an extensive and previously unpublished conversation with the architect herself.
Denise Scott Brown on Instagram:
#denisescottbrown_azw
Become a "monument" yourself by means of an interactive photo box in the exhibition and make your #museumelfie in front of the mysterious fountain in Downtown Denise Scott Brown. Then post it using the hashtag #denisescottbrown_azw and become part of the exhibition: Hooray I'm a monument 😉
#uglyinstagram_azw
Do you know that? You've grown fond of something really ugly? Denise Scott Brown and Robert Venturi even turned it into a game. On their Las Vegas Strip expedition, Denise Scott Brown and Robert Venturi played "I can like something uglier than you." Do you also have something ugly that you love? Then post it on Instagram under #uglyinstagram_azw and be surprised in our exhibition "Downtown Denise Scott Brown" …
To kick off the exhibition, all those who have their favourite ugliness marked with the hashtag #uglyinstagram_azw and have shared it on Instagram and show it in the shop of the Az W will receive entry for two for the price of one.