Exhibition
Donaustadt meets Seestadt
Exhibition in the framework of the symposium 'Zukunft Stadt Positionen'
Wed 13.03.2013, daily 10am-7pm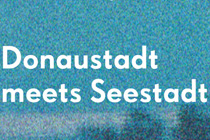 One third of Vienna's urban growth takes place in the Donaustadt. What images of the city are projected onto this space? Does more growth always mean more city? And what contribution does the 'Seestadt' make in this 'terrain vague'?
In a number of expeditions, lectures and salon discussions held in the context of the event series 'Zukunft Stadt' organised by the Centre of Local Planning at the TU Vienna in recent months an approach was made to the transformation space Donaustadt in order to discern its qualities and autonomy and to examine its design possibilities. At the conclusion of the series the Centre extends an invitation to the symposium 'Zukunft Stadt Positionen' in order to examine the phenomenon Donaustadt and to take a position.
The discussions are accompanied by an all-day exhibition of works by students of local planning who made an examination of this area.
schedule
10am –7pm exhibition 'Donaustadt meets Seestadt'
5pm tour of exhibition with René Ziegler, TU Vienna
7pm symposium, presenter: Rudolf Scheuvens, TU Vienna
Admission free