Exhibition & Opening
Mapping the City's Land
Thu 11.02.2021 – Mon 22.02.2021 daily 10:00-19:00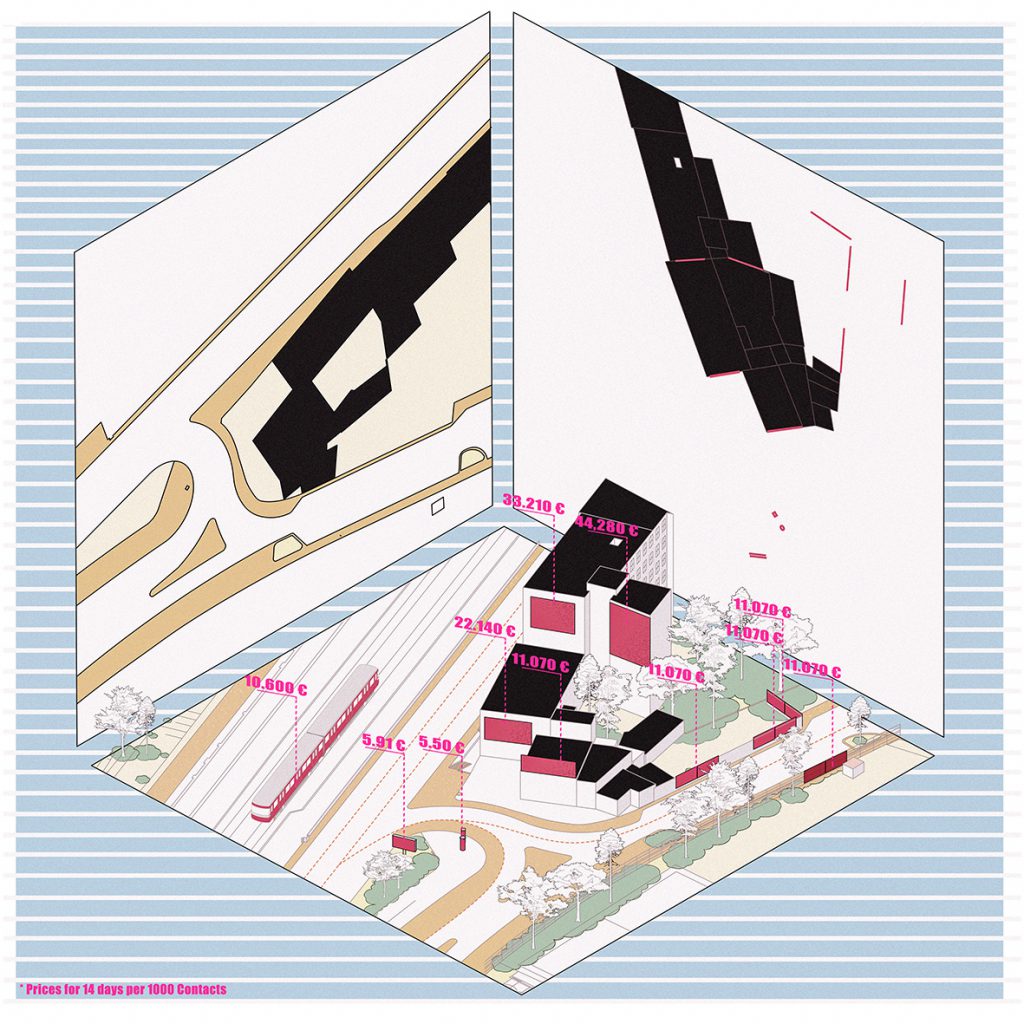 Research into property ownership in the Spittelau/Althangrund area dug deeply and yielded some complex results. Students at the Institute of Art and Architecture at the Academy of Fine Arts Vienna present a complex piece of urban space in the form of a multimedia map in 35 fragments.
When the railway tracks were built over, the Spittelau/Althangrund area gained a great deal of urban land. No longer parcelled with the natural city ground, today it forms a complex structure with horizontal stratification — in spatial and legal terms, and also in terms of everyday accessibility and use.
Following the restriction of possibilities to survey the site itself imposed in early 2020, the area described became increasingly imaginary. On a speculative level, the dry land register map was overlaid with poetic urban images from Italo Calvino's book Invisible Cities. The dislocated place was digitally reconstructed, imagined, distorted and re-narrated. Memories collide with images from the Internet, historical maps elicit fictional narratives. The result is a multi-layered portrait of an inaccessible and enigmatic terrain: Mapping Althangrund — an approach from a distance.
The Exhibition
Opening day:
Wed 10.02., Admission free from 10:00-19:00 (please note the current Corona protection measures!)
Digital Opening:
Wed 10.02., 19:00
Welcome adress: Angelika Fitz, Director Az W; Johan F. Hartle, Rektor, Akademie der bildenden Künste, Vienna
Introduction: Katharina Ritter & Karoline Mayer, Curators "Land for Us All"
Lectures: Antje Lehn and Lisa Schmidt-Colinet as well as students of the Institute of Art and Architecture, Academy of Fine Arts Vienna: Annika Böcher, Maximilian Gallo, Ferdinand Klopfer, Katařina Kunzová, Prima Mathawabhan, Stepan Nesterenko, Marie Teufel, Magdalena Triendl