Exhibition
'Das Beste Haus' / The Best House
Presentation of the Winning Projects
Fri 29.04.2005 – Mon 16.05.2005
daily 10am-7pm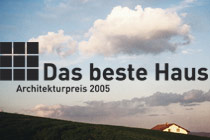 Opening and prize-giving ceremony: Thursday, 28.04.2005, 7pm
A new prize for 'Das Beste Haus' (the best house) was announced last year by the s Bausparkasse in collaboration with the State Secretary for Art and the Media and the Architekturzentrum Wien. The explicit aim was to track down new concepts that show clear formulations of changing housing needs using architectural means in the existing and ongoing development of the domestic landscape.
Working together, the regional architecture institutions found the "best house" in each of the 9 federal states of Austria. The prize-winning projects show regional characteristics, ranging all the way from veritable gems to dream homes, and set high standards for their design and the quality of life they offer.
During the prize-giving ceremony, the clients concerned will report in brief on the motivation behind and their experiences with the prize-winning houses, and the architects will be outlining the path to the realisation of their prize-winning houses.
The exhibition of the winning projects and other exceptional houses submitted to the competition will be touring Austria subsequently.
Presentation of Awards:
Franz Morak, Josef Schmidinger, Dietmar Steiner
Moderated by: Andrea Schurian