Lecture
Continue Building
The Hofburg and the Museumsquartier as unfinished projects
Sat 12.06.2010, 18:00-23:59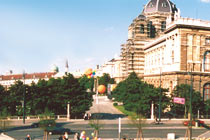 in German
Brief talks and panel discussion
The closing event for the symposium on the FWF research project on the Vienna Hofburg since 1918: from the imperial residence to the Museumsquartier, at the Austrian Academy of Sciences and organised by the ÖAW in cooperation with the Österreichisches Filmmuseum — The Austrian Film Museum and the Architekturzentrum Wien.
6pm Dietmar Steiner, director of the Az W, welcome address
6.10pm Maria Welzig, Hofburg-MQ research project, introduction
6.20pm introductory statements by:
feld72, architects
Gabu Heindl, architect
PPAG Popelka Poduschka Architekten , architects
Gerhard Steixner, architect
from 7pm panel discussion with:
Nikolaus Bernau, architectural historian and journalist, Berlin
Bettina Götz, ARTEC Architekten, Vienna/Berlin
Sabine Haag, General Director of the Kunsthistorisches Museum
Eva Häfele, expert on cultural tourism, study on the Hofburg District of Culture
Alexander Horwath, director of the Austrian Film Museum
Christian Köberl, director of the Natural History Museum Vienna
Dietmar Steiner, director of the Az W
Moderated by Martin Fritz, curator and journalist, Vienna
Symposium on Fri 11.06 + Sa, 12.06 at the Austrian Academy of Sciences. Full programme available online at:
http://www.oeaw.ac.at/deutsch/aktuell/veranstaltungen/veranstaltung_12402.html
Impressions from the event "Continue Building. The Hofburg and the Museumsquartier as unfinished projects", June 12 2010 at the Architekturzentrum Wien.