Panel Discussion
City Dialogue in the Az W
The Gürtel: Focus on a Target Area in the Urban Development Plan 2005
Wed 15.06.2005, 19:00-21:00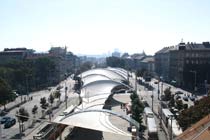 The Urban Development Plan 2005, which will remain in force for the ensuing 10 to 15 years, defines 13 target areas that overlap existing political district boundaries. In a panel discussion the "Target Area Gürtel" will be examined as a model for the application of these future plans in terms of both organisation and content.
In 2001, in response to a special wish on the part of the Mayor of Vienna, this area was adopted as part of the government programme and also formed part of a EU programme until 1999. Today the process of improving the Gürtel, which was started more than 30 years ago, is still being continued.
Contributions by all the relevant protagonists – citizens, business people, administrators, experts etc. – are coordinated in order to harmonise the different social, cultural, traffic planning, and economic measures with each other.
The Panel
Tina Gerstenmayer, resident, committee Gürtel Beirat
Peter Lattinger, journalist from KURIER daily newspaper
Rudolf Schicker, Executive City Councillor for Urban Development, Traffic and Transport
Wolfgang Sengelin, Project Coordinator, Gürtel Target Area, Municipal Department 21A
Silja Tillner, architect
Presentation: Eugen Antalovsky, Director Europaforum Wien
In collaboration with Stadtplanung Wien.