Panel Discussion
China's Building Boom
Opportunities for young Austrian architects
Wed 02.06.2004, 19:00-21:00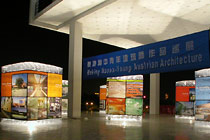 It is no secret that they have been building a great deal and quickly in China over the past few years. Nor is the fact that this has been happening with the involvement of foreign planning and architecture bureaus. Individual projects, but also urban development concepts on a large scale, are being completed by American and increasingly in recent years by European studios.
Just as it has been the case that a few, primarily large, studios have been winning the competitions and receiving commissions, so more recently middle-sized to smaller teams have not just been involved in the planning process but have led it. A new building boom seems to have broken out, one where more recourse is being made to European know-how than ever before.
With the exhibition 'making waves – Young Austrian Architecture in China', organised by architektur in progress and yea-architects (young European Asian architects), young Austrian teams of architects have been invited to China for the first time, providing them with an opportunity to establish contacts there. The report of their experiences is supplemented by planners and architects already active in China, as well as providing a glance at the economic background to the phenomenon.
The Panel:
Karin Lux, Architekturzentrum Wien (brief lecture: 'China's WTO entry and its significance for economic relations with the European Union')
Marie-Therese Harnoncourt, Michael Zinner; participants in the exhibition 'making waves';
Christian Tabernigg, Baumschlager & Eberle Architekten (Project management Project Mega Hall in Peking) Hongyan Kong, coordinator of the exhibition 'making waves – Young Austrian Architecture in China'
Moderated by: Volker Dienst, architektur in progress
Participants in the exhibition 'making waves – Young Austrian Architecture in China':
querkraft
Delugan_Meissl
gerner°gerner plus
propeller z
BKK3
pool
the next ENTERprise
Rainer Pirker Architexture
BN Architekten
hobby a
urban fish 2
Mladen Jadric
Flöckner & Schnöll
Martin Forsthuber
ko a la
HOLODECK.at mit Marc Gilbert und Machné & Durig Architekten