sundays
Children's day-homes 1
tour 30
Sun 25.10.1998, 13:30-23:59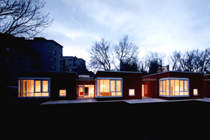 "Building palaces for children is pulling down prison walls"
Several stages are going to lead to new children's day-homes. Within the School Building Programme 2000 a large number of interesting children's day-homes were realised during the last few years.
21st district, CDH Gschweidlgasse
Architect: Markus Geiswinkler, built in 1995
Partition walls create withdrawal niches within the generously conceived group rooms.
22nd district, CDH Pastinakweg
Architects: Arge Gressenbauer- Schwalm-Theiss, built in 1995
Pavilions with partly covered terraces characterize the picture of this generous building. The architecture's structure refers to the special kindergarden in the Auer-Welsbach-Park built by Franz Schuster in 1949.
22nd district, CDH Ullreichgasse
Architects: Arge Berzl-Lutter, built in 1996
22nd district, CDH Schödlbergergasse
Architect: Dimitris Manikas, built in 1996
Situated near the Old Danube and surrounded by groups of large protecting trees, the new kindergarden subdivided into pavilion elements is particularly well accepted by small users because of its differentiated proportions.
Departure from the Architekturzentrum Wien at 2p.m..
Tickets: ATS 150.- Students: ATS 100.-
Guide: Michael Diem