Lecture
Celebrating Democracy and Creating Identity in Soweto
Lecture by Pierre Swanepoel (studioMAS), Architect, Johannesburg held in English
Thu 05.08.2004, 19:00-21:00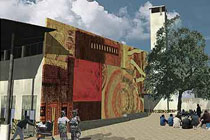 The architects studioMAS are a relatively young and very active operation based in Johannesburg and Capetown. Since its founding in 2000 they have completed a remarkably broad spectrum of projects, among which the most significant are a series of apartment buildings and office projects. The generation of a synergy between technology and nature, the creation of spaces offering quality of life and sustainable structures lie at the forefront of their work.
StudioMas is representative of a series of architecture studios who are attempting to provide suitable answers for a 'new' South Africa, and have been facing a series of challenges in the architecture and planning sectors since the end of the Apartheid system in 1994. In 2002 studioMAS won an international competition: an architectural concept was to be developed for the 50th jubilee of the 1955 Freedom Charter at the place in Soweto where it was called into life during the Congress of People.
The design submitted by studioMas convinced the jury, its main element being a central square from where the prerequisites for an urban rejuvenation project are to be generated in the heart of Soweto. The basis for the project is a "design charter" based on nine principles: Equality/Accessibility/Robustness/History/Vitality/Identity/Legibility/Symbolism/Ecology.
Pierre Swanepoel is presenting the project for the Walter Sisulu Square of Dedication, giving an insight into the realisation of what is one of Johannesburg's most symbolically loaded sites, one that is necessary to the future development of Soweto and providing the area with a positive impulse.
Introductory words: Dietmar Steiner, Architekturzentrum Wien