Lecture
Catherine Mosbach, Landscape Architect
Behind the Scenes of Inscribing the Landscape – Project Lecture in German
Fri 14.05.2004, 19:00-21:00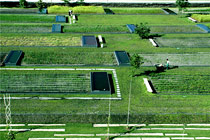 Catherine Mosbach, a prominent landscape architect from Paris with a pan-European reputation, is presenting her approach along with selected projects. Her lecture has been organised in collaboration with the Institut für Landschaftsarchitektur der Universität für Bodenkultur, Vienna. Catherine Mosbach speaks out in her work against the "smoothing over of public space", pleading for the connection between person and location with the help of contemporary landscaping techniques. Her interpretations go far beyond the visual, stemming from a phenomenological view of the landscape.
The projects of the last few years are characterised by temporal issues and their appropriate language and by the co-production of the urban landscape with its protagonists.
"I present 4 designs, the last two having been realised, that all attempt to handle both the morphology of the setting and the development of its protagonists at the same time: 'Prés fabriqués' (competition for concepts),'paysage équipé' (urban development design for the city of Rennes), Canal St. Denis, the Bordeaux Botanical Gardens."
A cooperation with the Institut für Landschaftsarchitektur – BOKU Vienna, ÖGLA, Österreichische Gesellschaft für Landschaftsplanung und Landschaftsarchitektur and L'Institut Francais de Vienne.