Lecture
CANCELLED: Volksvorlesung 3: Strategic Landscapes in Urban Development: A Retrospective
Hugo Potyka, Architect & Urbanist & Kim Thorton Lektorin, Lecturer, BOKU Vienna
cancelled!
Wed 12.06.2013, 19:00-21:00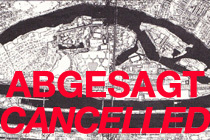 Strategic Landscapes in Urban Development: A Review
Hugo Potyka, architect and urban planner
& Kim Thornton, lecturer at the University of Natural Resources and Life Sciences, Vienna
Landscaping has frequently been used as a strategic instrument for urban development, even if to different ends — e.g. as a tool for developing the property market. The lecture sheds light on a number of key developments in landscaping with a focus on Vienna, e.g. the Donauinsel.
Event in German only
Admission free!