Workshop
CANCELLED: Drawing with Rüdiger
Workshop in the framework of the exhibition (for all ages)
cancelled!
Sat 05.09.2015, 15:00-23:59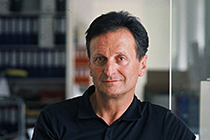 Support programme "One Room for Five. Twenty Architectural Years"
We start with a big roll of paper, fat crayons and thick felt pens. Then we draw a good section of a town or city. Diverse, lively, or withdrawn and embedded in nature. Together we discover how different this key element in our drawing can look. So we need to make comparisons and new discoveries — along with new friends while we are doing it.
The architect Rüdiger Lainer has been engaging with towns and cities for many years, and has himself drawn and built city districts. He knows a great deal about towns and cities, but also about how they become pictures. With crayons or felt pens, by day or by night, towns are constantly changing.
The educational programme for the exhibition "One Room for Five" will be implemented personally by the five architects.
The workshop will only be held with a minimum of 8 participants.
Reservations required: T +43 1 522 31 15 or office@azw.at