Workshop
Bumper LEGO Event
to mark the beginning of summer
Sun 01.07.2012, 11:00-17:00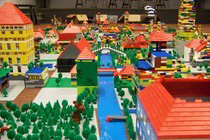 We start the Bumper Az W LEGO Building Event on the first Sunday of the school holidays! Budding architects big and small are invited to participate in the building of the biggest Az W LEGO City. There are 100 square metres of surface to design waiting for you…
A whole lot is happening in the Az W LEGO City — and it's fun! Would you like to help the Az W build the biggest Az W LEGO City? Or would you like to help plan the new Az W Harbour City? The Az W LEGO hospital also needs to expand. Furthermore, a number of new office and hotel towers are to be completed at the Az W LEGO airport. How about making a train run through the new Az W LEGO Station complex when the Az W LEGO City has been completed?
Building instructions are provided by qualified architecture teachers.
However no supervision is provided, nor responsibility taken for minors.
The event is not dependent on the weather.