Workshop
Buildings like crystals 03.01.
In the framework of the Wiener Ferienspiel, ages 6+
Fri 03.01.2014, 10:00-12:00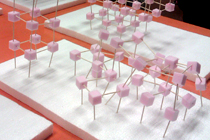 Snow and ice have their own kind of architecture. When it is very cold frost crystals can often form amazing flower-like patterns on window panes. Together we examine what these crystals look like in detail and see how architectural forms can be derived from them; then we build a wonderful world of ice flowers.
Dates: Mon., 30.12., Tues., 31.12.2013, Thurs., 02.01., Fri., 03.01.2014; 10am– 12 noon
Reservations required for workshop participation:
T +43 1 522 31 15 or office@azw.at