Workshop
Building (Tree) Houses And Other Interesting Things (3)…
The Autumn/Winter Programme of the Architekturzentrum Wien for Children Aged 6 And Up
Tue 18.12.2001, 15:00-00:00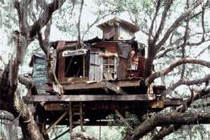 Once again the Architekturzentrum Wien is opening its doors for you this Autumn. This time in our own space, as we've been building busily away so that we can discover the joys of its little workshop along with you and the newly reopened Architekturzentrum Wien.
Our voyage of discovery this time is taking us to the very roots of architecture, we are looking at what architecture actually is. But some things that are not generally thought of as architecture need to be looked at, too.
We are going to meet up and tour round the exhibition 'Sturm der Ruhe. What is Architecture?' There will be four stops on the way where there are some exciting things to talk about, join in with and experience. As well as a Touch-and-Feel Street, where you can handle various materials and guess what they are, we are going to be making our own spaces, apartments and houses.
And listen carefully: The story of the bridges is going to take us to a village by a lake where strange things are happening… but that's all we are going to tell you for the moment.
WHEN
Tuesday, 18th December 2001
Start: 03:00 P.M.
WHERE
Architekturzentrum Wien
Museumsplatz 1
A-1070 Vienna
AUSTRIA
RESERVATIONS
Architekturzentrum Wien
Alexandra Viehhauser
Tel.: ++43-1-522 3115 Ext 27
email: marketing@azw.at
Price
Euro 3.50 (ATS 48.20)
There is a 20% reduction for SmallPartners of the Az W
The Az W For Groups of Children and School Classes
If you don't want to come on your own, and so you want to bring your friends, classmates and teacher – no problem. With an advance booking you can make an appointment to visit our SmallProgramme on a different day.