Workshop
Building together – Learning together
for children aged 6+
Sat 20.01.2007, 15:00-17:00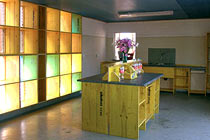 Workshop for children aged 6+ and their parents
Accompanying the exhibition "Un Jardin d'Hiver presents. "Bottom up. Building for a better World" 9 Projects for Johannesburg".
The exhibition tour leads us to the throbbing city of Johannesburg where, together with locals, students from Austria and Germany plan and build projects.
Together we discuss South Africa's geographical situation, the phenomenon of the "sun" in architecture as well as the climatic factors that determine architecture.
In the practical part we plan and build our own project that focuses completely on the needs of children. What elements are essential here? A cosy corner, a play corner, a slide or perhaps windows that extend down to the ground?
Duration: 2 hours
Reservations: 01-522 31 15 or office@azw.at