Workshop
Build Books!
An educational programme for children and young people (in German) to accompany the exhibition "How to Build? The Modernist Book"
Sat 22.11.2003 – Sat 24.01.2004
daily 10am-7pm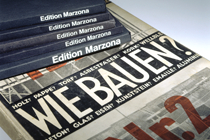 Books guide us through the exhibition, open and closed or horizontally and vertically presented books. They cover themes like MATERIAL, CONSTRUCTION, URBAN DEVELOPMENT or HOUSING DEVELOPMENT playfully. After the tour there is a hands-on workshop where each child can BUILD their own architecture book to take home with them.
Dates: at 3pm on
Sat. 22.11.2003
Sat 20.12.2003
Sat 24.01.2003