Symposium, excursions, pre-premiere film screening
Bretteldorf Re­vi­sit­ed
A century of informal urban development
Fri 05.10.2018 – Sat 06.10.2018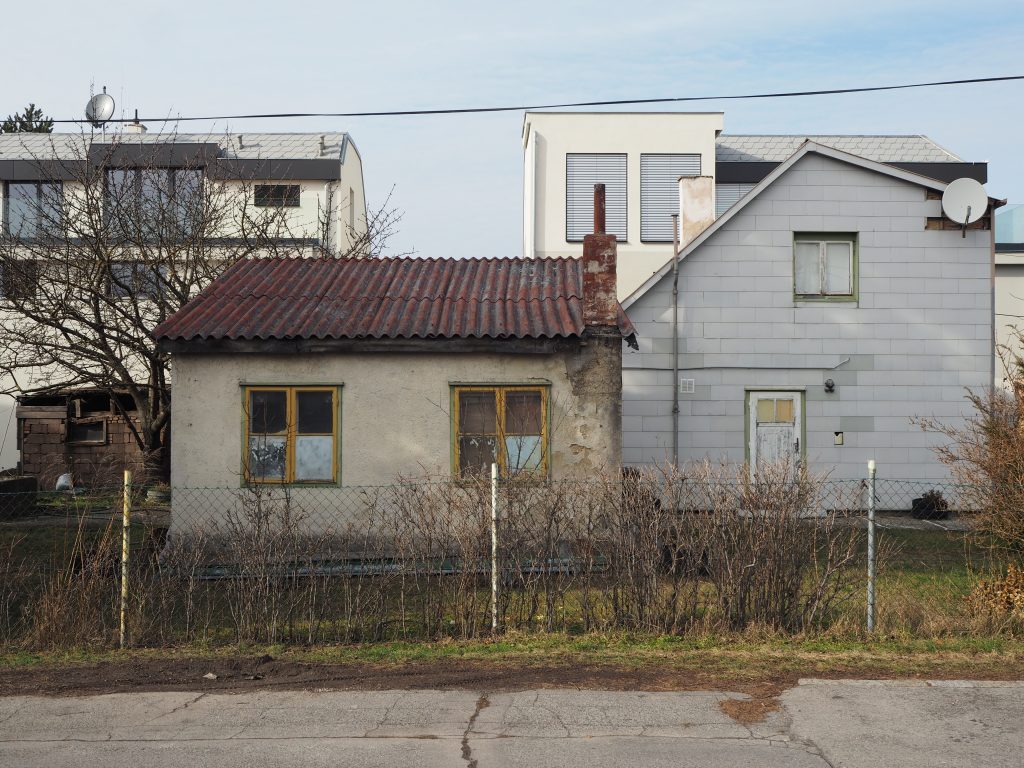 To mark the 100th jubilee of the Republic of Austria, the symposium is dedicated to the frequently overlooked history of 'wild' Vienna, the squalor of the unplanned urbanisation and its traces still in evidence today.
Where and how does informal production of the built environment occur? During the two-day symposium, historical and current examples from Vienna and other European contexts are introduced and examined from a multidisciplinary perspective. City walks provide insights on site.
The Friday afternoon begins with lectures on the history of 'wild settlement' in Vienna — the informal production of space since 1918. In the evening, the keynote speeches address Europe's largest slum, in Cañada Real near Madrid, and the informal culture of building in Italy. Saturday starts with guided tours on foot through the city. In the afternoon, current informal urban practices are examined in lectures and discussions. The heritage of 'wild' Vienna is viewed in context with new forms of grass roots urban production. To crown the evening, Melanie Hollaus has kindly permitted us to screen her documentary before it goes on release.
Programme Symposium:
Fri 05.10.2018, 14:00–20:30
14:00 Welcome address: Angelika Fitz, Director of the Az W
14:10–15:45 Introductory lecture: Friedrich Hauer, Andre Krammer, urbanists
Lectures:
16:00–18:00 Informal space production in Vienna since 1918
Ulrike Zimmerl, historian
Ulrike Krippner, Landscape architect
Peter Autengruber, historian
Keynotes:
European Context
19:00–19:15  Intro to the Keynote Lectures, Friedrich Hauer, Andre Krammer, urbanists
19:15–19:40 Keynote 1: Francesco Chiodelli, urbanist, L'Aquila
19:40–20:05 Keynote 2: Regine Keller, landscape architect and urban planner, Munich
Sat 06.10.2018, 09:55–20:30
Excursions:
09:55–12:00 Guided tours on foot in originally 'wild' settlement districts

Wolfersberg / Kordonsiedlung revisited
Reservation required, from 10.09: anmeldung@azw.at
Brief lectures:
14:00–16:00Current aspects of urban informality
AKW Lobau (Wagenplatzkollektiv)
Andreas Hofer, urban planner
Daniele Kárász, urban anthropologist
Annika Rauchberger, social worker
Moderated by Friedrich Hauer
Panel discussion:
16:30–18:00 The legacy of "wild" Vienna: Urban structural heritage and significance for current forms of "urban production from below"

Elke Krasny, curator, culture theorist
Klaus Steiner, urban planner
Mara Verlic, urban sociologist
Moderated by Andre Krammer
Documentary, pre-release screening:
19:00–19:30 Talk with the filmmaker and contemporary witnesses

Leopold Draxler, sculptor (Bruckhaufen)
Edda Peter (Bruckhaufen)
Moderated by Judith Leitner
19:30–20:15 Wiens "wilde" Siedlungen (AT), D.: Melanie Hollaus
20:15–20:30 Talk with the filmmaker and the curators of the symposium
Melanie Hollaus, film maker
Friedrich Hauer, urbanist
Andre Krammer, urbanist
Moderated by Judith Leitner
Concept + realisation: Friedrich Hauer, Andre Krammer
Organisation: Bettina Büttner-Krammer
The research project receives a Republik in Österreich — Demokratie in Wien grant from the Science Council of the City of Vienna Culture Department