sundays
Bratislava – Vienna = 55 km
tour 66
Sun 24.09.2000, 07:45-19:30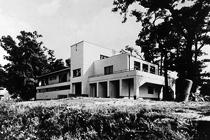 In Front of the Door:
A tour through Vienna's neighbouring town, on the trail of similarities and differences to be seen in the 20th century architecture.
Morning
Fridrich Weinwurm, Ignac Vecsei
Nova Doba apartment buildings, 1932–1942
Josef Marek
The Avion apartment building, 1931–1932
Klement Silinger
The Anatomic Institute, 1923–1927
Roman Hajek (Mitarbeit: Andrej Alexy)
Haus Krater, 1996–1997
Ferdinand Milucky
Crematorium, 1962–1968
Afternoon
Emil Bellus
The Slovakian Rowing Club, 1930–1931
Juraj Fecanin, Heinrich Kupec, Stefan Polakovic, Josef Konrad (Reconstruction)
The German Danube Rowing Club, 1930–1931
Jozef Lacko, Ladislav Kusnir, Ivan Slamen
SNP Bridge, 1968–1973
Alois Balan, Jiri Grossmann
Exhibition space and clubroom of the Slovakian society of artists, 1924–1926
Alois Balan, Jiri Grossmann
Kreiskrankenkasse with hospital, 1936–1939
Ödön Lechner
St. Elisabeth Church, 1904–1908
Emil Bellus
Nationalbank, 1936–1938
Juraj Tvarozek
Slovakian Sparkasse bank, 1929–1931
Emil Bellus
Housing association apartment buildings, 1933–1939
Josef Rittner
Military administration building, 1909–1913
Meeting Point: 7:45 A.M. (be punctual) at the main entrance to the Museumsquartier Vienna
Departure: 8:00 A.M., return approx. 7:30 P.M.
Don't forget to bring a valid passport and Slovakian Crowns!
Guides: Henrieta Moravcikova, Monika Platzer
Tickets: EUR 51.10 (ATS 700.-), including travel costs and lunch
Links:
Interactive Bratislava
Bratislava – on Excite Travel
Henrieta Hammer-Moravcikova
Slovak Modern Architecture – 20th Century
Bratislava Interactive