Panel Discussion
BIG Az W: Well advised…
The BIG is taking steps to ensure even better architecture
Wed 28.03.2007, 19:00-21:00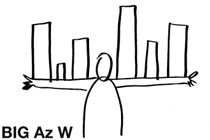 As the largest property developer in the country, time and again BIG faces the challenge of completing important large-scale projects in sensitive urban situations. Not least, to make the exchange of knowhow between planners and developers more efficient, the concern will be intensifying its contacts with creative forces among domestic architects and establishing a new institutionalised basis for these contacts.
A group of experienced architects are in future not only going to be active as an advisory apparatus for BIG equipped with the capacity to instrumentalise a furthering of, and adding depth to, the expertise already acquired by BIG over years past to achieve the maximum with its urban development and architectural contributions.
BIG Az W is taking this as an opportunity to open to discussion the basic isssue of consultation for architectural decisions on both a political level and an entrepreneurial one.
Referenten
Josef Mathis, Mayor Zwischenwasser
Johann Padutsch, City Councilman Urban Planning and Building Authorities, Salzburg
Paul Raspotnig
Following a panel discussion. The panel:
Wolfgang Gleissner, BIG
Josef Mathis, Mayor Zwischenwasser
Johann Padutsch, City Councilman Urban Planning and Building Authorities, Salzburg
Paul Raspotnig, Initiative Architektur Salzburg
Moderated by: Dietmar Steiner, Ute Woltron