Presentation
BIG Az W: BIG Art
The Art Activities of the BIG
Wed 11.11.2009, 19:00-21:00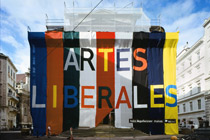 followed by a book presentation: Die Zelle (The Cell) — a colourful evening dedicated to art, in cooperation with the Bundesimmobiliengesellschaft
Five years ago the BIG completely reorganised its involvement with art, and decided only to commission art projects via an invited entry competition. The BIG Art Team is giving a presentation together with the current art advisors to the BIG of the art that has been realised in this context — like, for example, flying carpets, sunlight caught in heliostats or re-enactments of crowd scenes in silent films.
This is followed by the introduction, by the young artists concerned, of the publication on the art project Die Zelle. And then, of course, a party.
BIG Art Presentation:
Katharina Blaas, art historian
Gregor Eichinger, architect
Susanne Kappeler-Niederwieser, BIG Art
Eva Schlegel, artist
Ute Woltron, BIG Art consultant
presentation of Die Zelle — 81 KünstlerInnen in Kaisermühlen:
Die Zelle — Verein zur Förderung von Kunst und Kultur im öffentlichen Raum
a party follows with Tingel Tangel mobil.
admission free