Exhibition
best of wohnbau
Sat 14.09.2002 – Sun 15.09.2002
Daily 10:00 AM - 07:00 PM, Wednesdays until 09:00 PM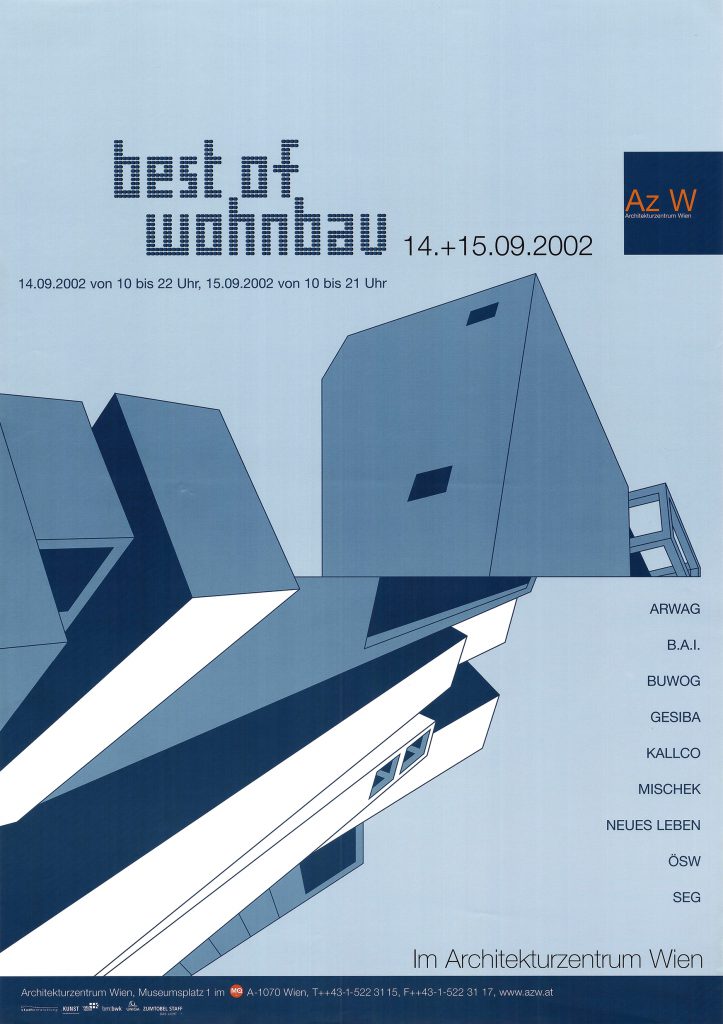 opening: Saturday 14.09.02, 10 am
BEST OF WOHNBAU
Saturday 14.09. & Sunday 15.09.2002
An Event Organised By The Az W in Collaboration With The Property Developers
Arwag, B.a.i., Buwog, Gesiba, Kallco, Mischek, Neues Leben, ÖSW, SEG
With the changes in social structures and working situations today, people's needs when looking for a new home are also changing: Innovative housing has to be capable of great flexibility in the way it is used in order to provide suitable homes for the broad diversity of different contemporary lifestyles.
In cooperation with 9 property developers, all of whom are Az W 'xlargepartners', selected projects are to be exhibited and discussed in a two day presentation entitled 'the best of wohnbau' (housing development). The 18 architecture projects on show will bring the visitors that bit closer to being able to find their own idea of a dream home.
PRESENTED PROJECTS
ARWAG: Helmut Wimmer, Wienerberg-City 'F2' and 'G', 1100 Vienna; Harry Seidler, Neue Donau high-rise, Wagramer Strasse 4, 1220 Vienna
B.A.I.: s & s architekten, Seitenberg housing estate, Seitenberggasse 53-63, 1160 Vienna; Atelier 4, 'Am Park 8a' town residence, Boerhaavegasse 8a, 1030 Vienna
BUWOG: Albert Wimmer, the Laaerberg project, 1100 Vienna; Günter Lautner, the Wienerberg City project, 1100 Vienna
GESIBA: Ganahl Ifsits Larch, Christine Zwingl, the Troststrasse 73-75 project, 1100 Vienna; Albert Wimmer, the Katharinengasse project, 1100 Vienna
KALLCO: Delugan_Meissl, the 7.14 Wimbergergasse 14-16 project, 1070 Vienna; Cuno Brullmann, Delugan_Meissl, Wienerberg City, 1100 Vienna
MISCHEK: Nasrine Seraji, Linzer Strasse 421A construction project, 1140 Vienna; Rüdiger Lainer, ARTEC, s & s architekten, Wiedner Hauptstrasse 135, Schusswallgasse 4, Hollgasse 5-7, 1050 Vienna
NEUES LEBEN: Geiswinkler & Geiswinkler, the Paulasgasse project / Am Hofgartel, 1110 Vienna; Delugan_Meissl, the Paltramplatz 7 project, 1100 Vienna
ÖSW: Schluder/Kastner, 'dieecke' (thecorner), Gerhardusgasse 18-20, 1200 Vienna; Adolf Krischanitz, the Tokiostrasse project, Kagran-West, 1220 Vienna
SEG: Margarethe Cufer, City X, Katharinengasse, 1100 Vienna; Coop Himmelb(l)au, SEG Wohnturm high-rise apartment block, Wienerberg City, 1100 Vienna
BUMPER PUBLIC PRIZE DRAW
Visitors to the 'best of wohnbau' are asked to nominate their favourite project for an award.
Every correctly completed ballot card submitted automatically enters the prize draw, with prizes of furniture from the companies Wittmann, Sedus, Hussl and Ambiente.