Symposium
Bernard Rudofsky
On his 100th Birthday
Fri 15.04.2005 – Sat 16.04.2005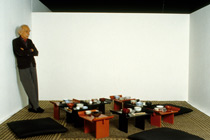 If he had still been alive today, the architect Bernard Rudofsky (*19.4.1905 Vienna, 12.3.1988 New York) would have celebrated his 100th birthday in 2005, making this ideal timing for an updated analysis of his work.
Bernard Rudofsky was neither an architect nor a theorist in the usual sense: His architectural practise was considered too limited in scope to be included in the compendium of the history of 20th century architecture – his publications were not scholarly enough for the academic establishment. In the meantime a necessary revision has been made, the myths of the pioneer have been put in context and new approaches have led to far more differentiated insights.
Bernard Rudofsky received his architecture training and cultural background in Austria, and is among the most influential figures in spreading awareness of European Modernism and the Austrian contribution in the direction of the USA. His wholistic approach, seeing people as individual and social creatures, represents a major contribution to the current architecture discourse.
Friday, 15.04.2005
06:00 pm – 06:30 pm
Monika Platzer, Architekturzentrum Wien
Introduction held in german
06:30 pm – 07:15 pm
Maria Welzig, architecture critic and freelance curator, Vienna
Bernard Rudofsky – Viennese Interactions
Lecture held in german
07:15 pm – 08:00 pm
Andrea Bocco, Politecnico di Torino
The Art of Dwelling: Domestic Well-Being, Mediterranean Spirit and Architectural Design.
Lecture held in english
08:00 pm – 09:00 pm
«Berta Rudofsky. My best career was as Bernard's wife.»
A film by Margot Fürtsch and Monika Platzer
Lenght: approx. 50 min.
Language: German
Saturday 16.04.2005
03:00 pm – 04:00 pm
Karl Wutt, Architect and Ethnologist, Vienna Habit and Habitat: Afghanistan
Lecture held in german
04:00 pm – 05:00 pm
Felicity Scott, University of California, Irvine
Rethinking Modernism at MoMA
Lecture held in english
05:00 pm – 06:00 pm
Wim de Wit, The Getty Research Institute, Los Angeles
Rudofsky's Discomfort – a passion for travel
Lecture held in german
Coffee Break
06:30 pm
Discussion with Hans Hollein, Peter Noever, Carl Pruscha, Monika Platzer.
Moderated by Joachim Riedl
Biography Bernard Rudofsky
Bernard Rudofsky (1905 – 1988) was an architect educated in Austria (at Vienna University of Technology) who was drawn to Italy back in the 1930s. This is also where he completed his first architectural work which, in purely formal terms, is ascribed to Classical Modernism. Due to the political upheaval caused by Hitler's march into Austria Rudofsky emigrated to South America (The Argentine, Brazil) before then finally settling in the USA.
As well as his building work, which receded increasingly into the background as he grew older, Rudofsky was also a designer, a traveller, a maker of exhibitions, an author and an academic. Rudofsky stands in the tradition of Loos and Frank even if he, entirely against the spirit of the time, did not distance himself from the past and – contrary to the closed Modernist view of the world – has always been preoccupied with cultural history.
Bibliography
Rudofsky, Bernard: SPARTA/SYBARIS, Ed. Museum für Angewandte Kunst, Vienna, Residenz Verlag, Salzburg-Vienna 1987
Rudofsky, Bernard: NOW I LAY ME DOWN TO EAT, Anchor Books, Doubleday, New York 1980
Rudofsky, Bernard: THE PRODIGIOUS BUILDERS, Harcourt Brace Jovanovich Inc., New York–London 1977
Rudofsky, Bernard: THE UNFASHIONABLE HUMAN BODY, Anchor Books, Doubleday, New York 1971
Rudofsky, Bernard: STREETS FOR PEOPLE: a primer for Americans, Van Nostrand Reinhold Co., New York 1969
Rudofsky, Bernard: THE KIMONO MIND, Doubleday, New York 1965.
Rudofsky, Bernard: ARCHITECTURE WITHOUT ARCHITECTS, Museum of Modern Art, New York 1964
Rudofsky, Bernard: BEHIND THE PICTURE WINDOW, Oxford University Press, New York 1955
Rudofsky, Bernard: ARE CLOTHES MODERN?, Paul Theobald, Chicago 1947
Exhibitions
1944 MoMA, New York: ARE CLOTHES MODERN?
1956 MoMA, New York: TEXTILES USA
1958 US Pavilion for the Brussels Worlds Fair
1961–1965 MoMA, New York: JAPANESE VERNACULAR GRAPHICS; ROADS, STAIRS and GAUDI; ARCHITECTURE WITHOUT ARCHITECTS
1980 Cooper Hewitt Museum, New York: NOW I LAY ME DOWN TO EAT
1987 MAK, Vienna: SPARTA/SYBARIS
Further Biographies
Maria Welzig, architecture journalist and freelance curator, Vienna
Maria Welzig: born in 1963, she studied art history in Vienna. Books and exhibitions on Austrian Modernist and contemporary architecture, including Josef Frank. Das architektonische Werk, Vienna 1998. Margarete Schütte-Lihotzky Stipend 2000. Teaching post at Graz University of Technology in 2003. Research project for the Wissenschaftsfonds on Austrian architecture since the 1960s. Short film schoener wohnen (with Sabine Groschup and Gerhard Steixner), 2004.
Theodor-Körner Prize 2001.
Andrea Bocco, Politecnico di Torino
Graduated in architecture at the Politecnico di Torino (1991); registered architect, own design bureau (1995); Ph.D. in architecture & building design at the Politecnico di Torino (1997); Head of the Photo Archives of the Schools of Architecture of the Politecnico di Torino (1997); Director of the San Salvario Neighbourhood Development Agency (1999); research into building technology at the Dipartimento Casa-Citta of the Politecnico di Torino (2001).
He currently teaches urban rehabilitation and participatory design (postgraduate school: technology, architecture and city in developing countries) and the technological culture of architecture (1st School of Architecture).
Berta Rudofsky
Berta Rudofsky (née Doctor) was born in 1910 in Vienna and grew up in the 13th District. Influenced by her parents – her father was an electro-engineer and excellent pianist, and her mother was a soprano – she studied musicology, but was forced to become self-sufficient at a young age by the early death of her father and her mother's poor health. Berta met Bernard Rudofsky while on a trip to Italy in 1934. In November 1936 they married in New York City Hall. Today Berta Rudofsky lives alternately in Vienna, New York and Frigiliana (Spain).

Monika Platzer
Studies of art history at Vienna University, has worked for the Architekturzentrum Wien as curator and Head of Archive and Collection since 1998. Research focus: 20th century Austrian architectural and cultural history; collaborator in numerous research and exhibition projects. Assigned by Austrian Ministry for Education, Science and Culture, by the Montreal Canadian Centre for Architecture the Getty Research Institute in Los Angeles to develop and curate (together with Eve Blau and Dieter Bogner) an exhibition entitled Mythos Großstadt, Architektur und Stadtbaukunst in Zentraleuropa 1890–1937 [engl. Shaping the Great City, Modern Architecture in Central Europe 1890 – 1937]. Upcoming projects: exhibition Viennese Kinetism, An Avantgarde Movement of the 1920s, to be shown 2006 at the Wien Museum, Vienna. Research work for exhibition project "The Reconquest of Europe: Re-Encountering the Public Space in Cities 1900–2000" on behalf of the Centre de Cultura Contemporenia de Barcelona.

Margot Fuertsch
Studies of architecture at the Vienna University of Technology; graduate in civil engineering. Several student internships at the office of Prof. Roland Rainer, Vienna. Foreign scholarship at the University of Michigan, College of Architecture + Urban Planning, Ann Arbor; student assistant at the Department of Building Construction II, Prof. Helmut Richter, Vienna University of Technology.
Since 1993 architectural office partnership with Siegfried Loos; 2002 establishment of collaborative architectural label polar÷, based in Vienna and Bad Gleichenberg. Lecturer at the Joanneum University of Applied Sciences.

Karl Wutt, architect and ethnologist, Vienna
Born in 1943. Wrote his dissertation on the architecture of a number of Hindu Kush valleys in Afghanistan und Pakistan. Since 1984 at the Institut für Völkerkunde (institute of ethnology) at Vienna University, and 1990–2004 at the art and architecture institute of the Academy of Fine Arts in Vienna.
Wutt conducted field research into the architecture of tribal ethnicity and in the field of urban anthropology. He has a particular penchant for photography and drawing. Between 1973 and 1997 he amassed a collection of drawings by Kalasha Kafirs – to which over 200 people contributed, members of a pre-Islamic culture in Pakistan – the last Kafirs of the Hindu Kush. He has also compiled a private archive of photographs parallel to his work.

Felicity Scott, University of California, Irvine
Assistant professor of art history and visual studies at the University of California, Irvine and a founding editor of the journal Grey Room, published quarterly by MIT Press. She received her Ph.D. from Princeton University in 2001, and also holds a MAUD from Harvard University, and B.Arch. from the Royal Melbourne Institute of Technology, Australia. Her writing on modern and contemporary architecture has appeared in anthologies, including Architecture and the Sciences: Exchanging Metaphors, and Anxious Modernisms: Experimentation in Postwar Architectural Culture as well as in periodicals such as October, Artforum, Assemblage, Lotus International, Perspecta, and the Harvard Design Magazine. She is currently completing two book manuscripts: the first, entitled Architecture or Techno-Utopia, addresses experimental and radical practices from the postwar period which attempted to articulate ongoing ethico-political dimensions for architectural practice; the second, arising out of her doctoral dissertation, examines the work of Bernard Rudofsky, reading his contributions to the end-games of modernism as critical responses to the historical transformations brought about by the global expansion of capitalism and advances in communication technologies.

Wim de Wit, The Getty Research Institute, Los Angeles
Wim de Wit studied at the Katholieke Universiteit, Nijmegen, The Netherlands,Ph.D. in 1974: The Amsterdam School. Dutch Expressionist Architecture. 1915 – 1930. MIT, 1983. At present: Head, Special Collections & Visual Resources and Curator of Architectural Drawings, Getty Research Institute, Los Angeles. Exhibitions in preparation: Julius Shulman, Getty Research Institute, 2005–2006; The Getty Villa Reimagined, J. Paul Getty Museum, Malibu, 2005–2006
Bernard Rudofsky, Getty Research Institute, 2007–2008
Detailed Programme
Friday 15.04.2005
6.30pm – 7.15pm
Maria Welzig, architecture journalist and freelance curator, Vienna
Bernard Rudofsky – Viennese Interactions
Even if Rudofsky said of himself that he only had "roots in the air, like some rainforest plants", his work nevertheless stands in a specifically Viennese cultural context. Concurring with Adolf Loos and Josef Frank, he saw architectural issues as primarily effecting everyday life, and like Frank – against the technocratic and nationalistic spirit of the time – he took the liberty of using the entire global cultural history as a source of insight and inspiration. This common background also explains the numerous lines of connection to his fellow Viennese architect Roland Rainer. Eventually this circle closed with Rudofsky's return to Vienna as curator of the exhibition Spart/Sybaris at the MAK in 1987: a late discovery for the German-speaking countries of this internationally successful maker of exhibitions and author. Rudofsky equates architecture to the essential questions of life, making his work a timeless and rewarding source.
7.15pm – 8.00pm
Andrea Bocco, Politecnico di Torino
The Art of Dwelling: Domestic Well-Being, Mediterranean Spirit and Architectural Design
His years of residence on the coasts of the Mediterranean follow a century-old tradition among Northern architects and artists and made him live one of the pivotal, albeit ambiguous, phases of Modernism. But, above all, that was the place where to personally live a healthy life, psychophysically wholesome; the warm source of a "still unspoilt" way of dwelling and living ("Lebensweise"), where it seemed to be possible to explore the themes of the house and clothing down to their roots. Rudofsky publicized the results of these explorations both through his highly refined design practice and the pages of Domus magazine (1938): an anticipation of all the topics of his many later books and exhibitions in the States, born of the selfsame interest in material life. In his architectural projects, Rudofsky tried to give a dignified place to everyday practices, and to shape the house as the touchstone of a philosophy of life, grounded on intimacy, slowness, intensity, sensuality, without concern for social norms and unnecessary commodification. The proposition of individual isolation as an existential value, and the necessity of combining both interior and exterior spaces in a house made patio a feature of prime significance in Rudofsky's work: in his design drawings, of course, but also in his theoretical writings, as well as in his few built projects. Some examples, both "ideal" designs and projects for real clients, including the Casa Campanella, Albergo San Michele, the Procida Atrium House, and the celebrated Casa Oro, demonstrate Rudofsky's integration of expressive and research interests: architectural design was for him an instrument of both professional practice and scientific investigation.
8.00pm – 8.50pm
Berta Rudofsky – My Best Career Was as Bernard's Wife
A film by Margot Fürtsch, Monika Platzer
Editing: Kurt Van der Vloedt
The film is based on a series of interviews with Berta Rudofsky and accompanying footage shot in New York, Naples and Frigiliana (2002 – 2004). The cosmopolitan Bernard Rudofsky's concepts for architecture and life are reflected in Berta Rudofsky's personal memories. Hers is not just the eye-witness account of a wife, she was also his assistant, fellow traveller, manager, driver, translator, sandal-maker, teacher, lector, model and muse. To this day she administers his estate, so 'anonymously' but actively contributing in a diversity of ways to her husband's oeuvre. The general public will have an opportunity to gain considerable insight into the facts and motives that lie behind the scenes of the "official history". How and under what conditions does architecture come into being? In shedding light on these aspects, interesting emphasis is placed on Rudofsky's private life, in line with Beatriz Colomina's observation that the "secret life of architects" is "the domestic life of architecture".
Saturday 16.04.2005
3.00pm – 4.00pm
Karl WuttHabit and Habitat: Afghanistan
Architecture exists between habit and habitat. Humans make themselves at home in nature, domesticating the wild and creating a habitat for themselves, the landscape: "Here, at the foot of the village, the river, on its stones, takes a rest from the fields. Man has transformed the river into an expanse of terraced irrigated land, that is, into architecture", I once wrote in an essay ("Afghanistan, At Second Sight") about the landscape of a side valley of the Indus river. And now a word about habit: "I think I can recognize a girl brought up in a convent. She mostly walks with her fists closed", Marcel Maus said 1934 in a lecture on "Techniques of the Body", by which he understood "the way people traditionally use their body in one society or another", i.e. the ("socially conditioned") way they walk, stand up, eat, sit, lie etc. and how this finds expression in different artifacts – clothes, houses, furniture etc. – Bernard Rudofsky presumably was well familiar with such considerations when he, radically and polemically, published a book for an exhibition shown at the Vienna Museum of Applied Arts; a book that I love precisely because he makes no secret of his likings – his habits – in it: Sparta/Sybaris. What is needed is not a new way of building, but of living.
When – after September 11, 2001, and after 26 years of absence – I came back to visit the Pashai people in the Hindukush, a pre-Islamic ethnical group in Afghanistan, I found their habitat hardly changed: the war had rather isolated, than destroyed, their inaccessible villages and, superficially, even preserved them. But the people no longer sat and ate the way they had used to; they wore new, self-made caps and were thinking of "better" houses. When, in November/December 2004, I returned to Afghanistan for the third time after the war, some local warlords had built themselves "Tuscan villas", which entailed the question why contacts between different cultures can easily take a twist for the kitschy, souvenirish etc. I made a photo series of "positive" counterexamples, showing an ideal type of habitat, a miniature landscape with a "little river", a "lake", a garden, with a special breed of people and certain types of animals: Mehtarlam, a saint's grave in the Afghan province of Laghman. (Text: Karl Wutt)
4.00pm – 4.45pm
Felicity Scott, University of California, Irvine
Rethinking Modernism at MoMA
Bernard Rudofsky is most widely recalled for Architecture without Architects, which opened at New York's Museum of Modern Art in 1964. The exhibition and its popular catalog were received as a timely and critical intervention into the state of American architecture in the 1960s. Rudofsky had, however, been producing equally insightful and polemical interventions into the state of modern architecture and design in America for a number of decades. From his 1944 MoMA exhibition, Are Clothes Modern?, to Behind the Picture Window of 1955, and even to his work as Chief Architect of the exhibits in the US pavilion at the 1958 Brussels Worlds Fair, Rudofsky's multi-faceted production had been developing a sustained, polemical, and parodical assessment of the American way of life. This paper will focus on aspects of his earlier American production, including curatorial and installation practices, as well as writing, editorial, and design work, which formed the many media through which Rudofsky launched his critique of the commodification of everyday life. It will demonstrate, in turn, the degree to which his reading of everyday life remained in close dialog with the most prominent figures, discourses, and institutions of European and American modernism.
5.00pm – 5.45pm
Wim de Wit, The Getty Research Institute, Los Angeles
RUDOFSKY'S DISCOMFORT – A PASSION FOR TRAVEL
Travel was a crucial part of Bernard Rudofsky's life. It was a means for him to develop new ideas about topics of interest to him: the body, clothes, food, and the built environment. While he personally needed the change of scenery provided by travel, he resisted the changes in our eating, bathing, living, and other habits, and made it his duty to offer alternatives based on a better understanding of the historic origins of these habits.