Accompanying programme
#AzWsocial
Sun 26.06.2016, 10:00-19:00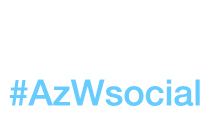 The Az W Social Media Day offers free admission to the exhibition "Europe's Best Buildings" for all social media followers of the Az W. Post and design your own contributions on FACEBOOK, INSTAGRAM or TWITTER and take part in the competition #AzWsocial.
11am: Twitter tour (English)
2pm: Twitter tour (German)
On Twitter we give a guided tour through the exhibition #EuropesBestBuildings. For an hour a wealth of information accompanies you through the big summer show live on the Az W Twitter channel. Simply join in and read! You are invited to twitter along and to take part in the tour through your comments.
Competition #AzWsocial
Every contribution that is tagged with #AzWsocial and #EuropesBestBuildings on 26 June on Twitter, Facebook or Instagram automatically takes part in our competition.
You can win Aquatunes, a high quality waterproof Bluetooth loudspeaker from GROHE, and two yearly admission tickets for the Architekturzentrum Wien.
Conditions for participation: those entitled to take part in the competition are persons who follow the Architekturzentrum Wien on Instagram, Facebook orTwitter. The contributions must be posted on the respective social networks and tagged with #AzWsocial and #EuropesBestBuildings.
The winners will be notified through the relevant social networks and asked to make contact by email. Contact must be made within two weeks, otherwise the prize is forfeited. Cash redemption and legal recourse are excluded.