Az W on Site
Az W vor Ort: Neues am Mühlgrund
Fri 19.05.2017, 16:00-18:00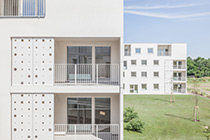 Registration required: from 2.5. at office@azw.at
The ship mills (Schiffsmühle) that were once here disappeared after the Danube was regulated but at Mühlgrund an effort is being made to preserve the rural atmosphere of the former water meadow landscape, despite the perceptible presence of the growing city.
The housing development "Mühlgrund II" by Nerma Linsberger has a U-shaped housing block and two atrium buildings that form an intimate village green for 142 apartments. A number of them have split levels and 4 metre high rooms, and offer a surprising generosity in the third dimension.
With the neighing of the horses from the nearby stud in our ears, on the way there and back we pass through the "neighbouring village" by Czech, Krischanitz and Neuwirth (and others).
With: Nerma Linsberger
Presenter: Anneke Essl