Accompanying Programme
Az W Student Day
In cooperation with Vienna University of Technology, Department of Architecture Theory
Thu 13.10.2016, 10:00-23:59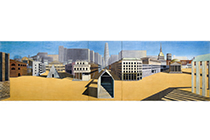 As part of the architecture theory seminar by Kristian Faschingeder, 20 students have prepared for the exhibition 'In The End: Architecture. Journeys Through Time: 1959 –2019' at the Architekturzentrum Wien, and undertaken in-depth analyses of different positions in the exhibition. These students are giving a special guided tour of the exhibition for Student Day, with featured talks between 12 noon and 7pm.
12pm
Luana Gurban: Smart City. How Will Technology and Information Transform our Cities?
12.30pm Simona Samova: Presence of the Past
1.30pm
Doroteya Boteva: Gentrification in Vienna
2.30pm
Emre Kilic: Why is Open-Source Architecture Not a Widespread Practice?
3pm
Lisa Bloderer: How Have Responsibilities Shifted for Social Architecture in Vienna?
3.30pm
Laura Hattinger: Critical Regionalism in Austria
4.00pm
Elif Hayran: Understanding Transcultural Pluralism in Postmodern Architecture
4.30pm
Margit Haider: Analogue Architecture Today"
5pm
Bal?zs Nagy: Is Green Architecture also Sustainable Architecture?"
5.30pm
Anamaria Vestemean: Utopia. Concept and Idea.
6pm
Ioana Morariu: Memories of Analogue Architecture
6.30pm
Maximilian Mandat: Standards and Laws in the Architect's Profession
Party at 7pm
with live music and a dance floor in the Az W Podium
in cooperation with fachschaft:architektur
Bring your own booze! There is a small bar serving beer for spontaneous arrivals and the forgetful. We look forward to welcoming all architecture aficionados.
Line-Up:
Derrek Order
Julia
Objekt 219
Thanks to: Montes