Presentation
Az W Photo Award 2016: I ? ARCHITECTURE
Presentation of the Prize-Winners
Wed 19.10.2016 – Tue 08.11.2016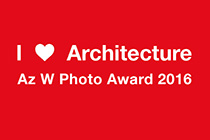 Announcement of the Prize-Winners:
Martina Frühwirth & Alexandra Viehhauser, Az W
Guests:
Marcus Schulz, Vitra
Franz Solta, Infoscreen
Carl Aigner, Landesmuseum NÖ
Johannes Faber, Galerie Faber
Main Prize:
John Fraser, untitled, Birmingham, Great Britain, April 2016
The winner will receive an Eames Plastic Chair from Vitra.
Shortlist:
2. Nora Höglinger, "Watermusic", Premstätten/Styria, Austria, August 2016
3. HD Bauer, photo from the group of works "Water Colours", Frankfurt am Main, Germany, April 2016
4. Petra Panova, "The Hug", Tokyo, Japan, March 2007
5. Torben Höke, untitled, Hanoi, Vietnam, December 2010
6. Elena Georgiou, untitled, Nicosia, Cyprus, May 2016
7. Rina Treml, "Stadtüberzug", Vienna, Austria, 2016
8. Christian Brandstätter, "Casa Invisibile", northern Slovenia, December 2014
9. Victoria Wakulicz, untitled, Krumbach/Vorarlberg, Austria, May 2016
10. Norbert Groeben, "New University Children's Clinic", Heidelberg, Germany, April 2015
I LOVE ARCHITECTURE is the motto for the Az W Photo Award 2016, which coincides with the exhibition 'In The End: Architecture'. Photographs were sought of buildings completed in the last 50 years. A jury of experts selected the winners from the many and extremely varied entries, which are on show for three weeks at the Az W Shop. The overall winner can look forward to owning an Eames Plastic Chair by Vitra.
There is an additional public vote on Facebook from 10.09 – 10.10.2016. The photograph with the most "Likes" is to be shown nationwide for two days on 2,254 infoscreens.