Az W on Site
Az W on site: Symbols of Power: Nazi Plans on Vienna's Ringstraße
Booked up!
Sun 09.08.2015, 16:30-19:00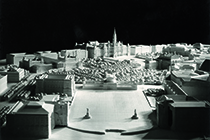 After an introduction to the exhibition contents the tour brings us to places in the surrounding urban area for which the Nazi regime made plans. The projects for the MuseumsQuartier, Heldenplatz and Ballhausplatz illustrate the transformation of historic urban space, in terms of both content and buildings,
for the Nazi regime's political presentation of itself. The air-raid shelter at the City Hall is a reference to the built reality from 1942 onwards and recalls the traces of National Socialist rule that today have often been forgotten.
Tour
Ingrid Holzschuh and Monika Platzer, Curators
Meeting place: 16:30 Az W Shop
max. 25 persons
Reservations required: T +43 1 522 31 15 or office@azw.at