Az W on Site
Az W on Site: Studio Visits
Booked up!
Fri 18.11.2016, 14:00-18:00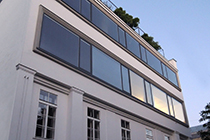 Reservations: by E-mail only, from 02.11.2016 to office@azw.at, max. 25 participants
Studios: Boris Podrecca / Werner Neuwirth / Adolf Krischanitz
Moderated by Anneke Essl with architects on location
In the framework of the Vienna Art Week, the studio visits accompany the exhibition 'At the End: Architecture', and pursue the question of what trends, architects, projects and Viennese architectural phenomena have had an international impact over the past 60 years. The bus tour takes us to three studios that provide Viennese reference points for insight into current projects and into their working methods.
In the framework of the VIENNA ART WEEK 2016
Date: 18 November 2016