Az W on Site
Az W on site: studio visits
Booked up!
Fri 20.11.2015, 14:00-18:00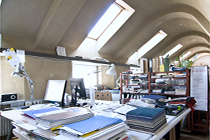 Studios: nonconform / pos sustainable architecture / Kohlmayr Lutter Knapp (URBANAUTS)
Moderated by Anneke Essl, Az W, with architects on location
max. 25 participants
The motto for the Vienna Art Week "Creating Common Goods" pursues the question of what art or architecture can do for the common good. This year's studio visits are to three studios where they engage with participation, the environment and sustainability, vacant property and temporary use. Alongside a presentation of current works, visitors are given insights into the planners' working method.
Reservation by E-mail only, from 03.11.2015, office@azw.at
Guided tour in German