Az W on Site
Az W on Site: Outdoor Expedition – 06.08.
Sat 06.08.2016, 16:00-18:30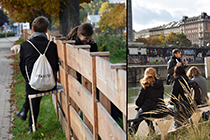 Tour guide: Dominik Scheuch, YEWO_LANDSCAPES
Reservations: E-Mail only, to office@azw.at, max. 25 participants
Equipped with mobile outdoor furniture (Vienna Para-Sites), the tour of discovery goes on foot to the most varied of contemporary outdoor spaces. Beginning with the Sonnwendviertel residential quarter and the recently opened Helmut Zilk Park, the tour moves on via the Schweizer Garten to the 21er Haus, until we reach the Erste Campus "urban townscape" designed by Auböck + Kárász. The interactive summertime stroll leads through the green areas of a rapidly changing part of Vienna.
Further date:
Saturday, 27 August 2016
Az W on Site: Outdoor Expedition – 27.08.