Az W on Site
Az W on Site: ÖAMTC Central Offices – 4pm
Booked up!
Fri 21.04.2017, 16:00-17:00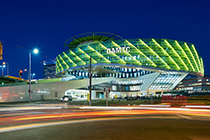 Duration: 1h per guided tour
Architects on site: Pichler & Traupmann Architekten
Moderated by: Anneke Essl
Reservations: from 27.03., by E-Mail only to office@azw.at
Max. 35 participants per tour
There is new architecture springing up on Highway 23, the Südosttangente. The new building provides an urban contrast in surroundings dominated by manufacturing and traffic. Brought together at this new location now are 800 employees, a generous service centre for members, a technical support station and a helicopter landing pad. The dynamic shape of the building demonstrates that everything here revolves around the subject of mobility. A generous outdoor space with prominent stairs hallmarks the thoroughly open character of the building, which continues in the modern workshops. Two guided tours provide an opportunity to inspect the site with the architects.
Further date: 21 April, 5pm