Az W on Site
Az W on Site: Hietzing. A walk around Villa Beer – 03.04.
Booked up
Sun 03.04.2016, 14:00-16:00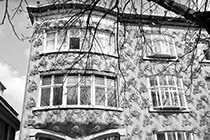 Registration required: only available by E-mail to office@azw.at, max. 25 participants
The neighbourhood around Villa Beer is like a who's who of the culture of building: Frank, Hoffmann, Loos, Plecnik. The stroll through the exclusive residential area is like being in an open-air museum, past houses and a school built by Frank's contemporaries, and a monument commemorating the neighbourhood's Jewish past. While the 21st century has also found its place in Hietzing.
Tour guide: Martina Frühwirth, Az W