Az W on Site
Az W on Site: Fine Prospects!
Unusual views of the Ringstrasse
Booked up!
Fri 30.10.2015, 14:00-17:30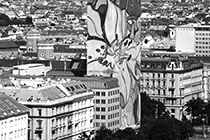 Tour guide: Christa Veigl, architectural historian
This year is the 150th anniversary of the opening of the Ringstrasse and of the birth of Max Fabiani. This tour brings us to the roof of the Ringturm, Urania and Natural History Museum. As well as reviewing the history of the Ringstrasse, its further development after 1865 will be examined and unusual views of the city offered.
Reservations required: T +43 1 522 31 15 or office@azw.at
Maximum number of persons: 25
please bring a tram ticket with you
Az W on Site: Fine Prospects! Unusual views of the Ringstrasse
Friday 30 October 2015
Tour guide: Christa Veigl, architectural historian