Az W on Site
Az W on Site: Erste Campus & Main Train Station
Booked up!
Fri 04.09.2015, 14:50-17:30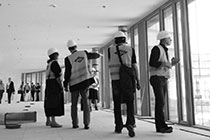 Az W on Site together with the architects presented in the exhibition "One Room for Five" offers guided tours of buildings in the urban area.
Architects on site: Dieter Henke, Marta Schreieck, Albert Wimmer
Moderated by Anneke Essl
After visiting the Erste Campus by Henke Schreieck Architekten, which is due to be completed shortly this tour brings us to the Main Train Station designed by Albert Wimmer.
Reservations required: T +43 1 522 31 15 or office@azw.at
Maximum number of participants: 25
The excursion "Az W on Site: Erste Campus & Main Train Station", Friday 4 September 2015