Az W on Site
Az W on Site: Broadcasting Centre, a listed building?
Booked up!
Sun 27.09.2015, 13:50-15:30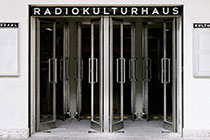 Tour guide: Barbara Feller, architecture historian
Moderated by Anneke Essl
On the occasion of "Listed Building Day" and in response to the public discussion about the sale of the Funkhaus, which has been a listed building since 1999, we focus on the history and architecture of this building.
Reservations required: T +43 1 522 31 15 or office@azw.at
Maximum number of persons: 30