Az W on Site
Az W on site: aspern Vienna's Urban Lakeside 2
Booked up!
Sat 25.07.2015, 16:00-18:30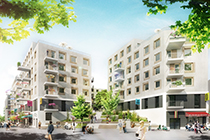 Guided tour: Az W guide
Architects on location: AllesWirdGut
max. 25 participants
Reservations required: T +43 1 522 31 15 or office@azw.at
A total of three guided tours provide an overview of the growing aspern Urban Lakeside development. By autumn the first residential quarter is scheduled for completion here, with 14 housing projects, three parks, a shopping street, an educational campus and a lake. The slogans for the new urban community range from "high class apartments" to "Smart City" and from "pioneering spirit" to "participation". In the course of this guided tour we pay a visit to the WAS apartment complex by and with AllesWirdGut Architekten.