Exhibition
Az W in WROCLAW: The Path to Modernism. Werkbund Housing Estates 1927–1932
An exhibition in the framework of the 2016 European capital of culture, Wroclaw
Thu 31.03.2016 – Sun 05.06.2016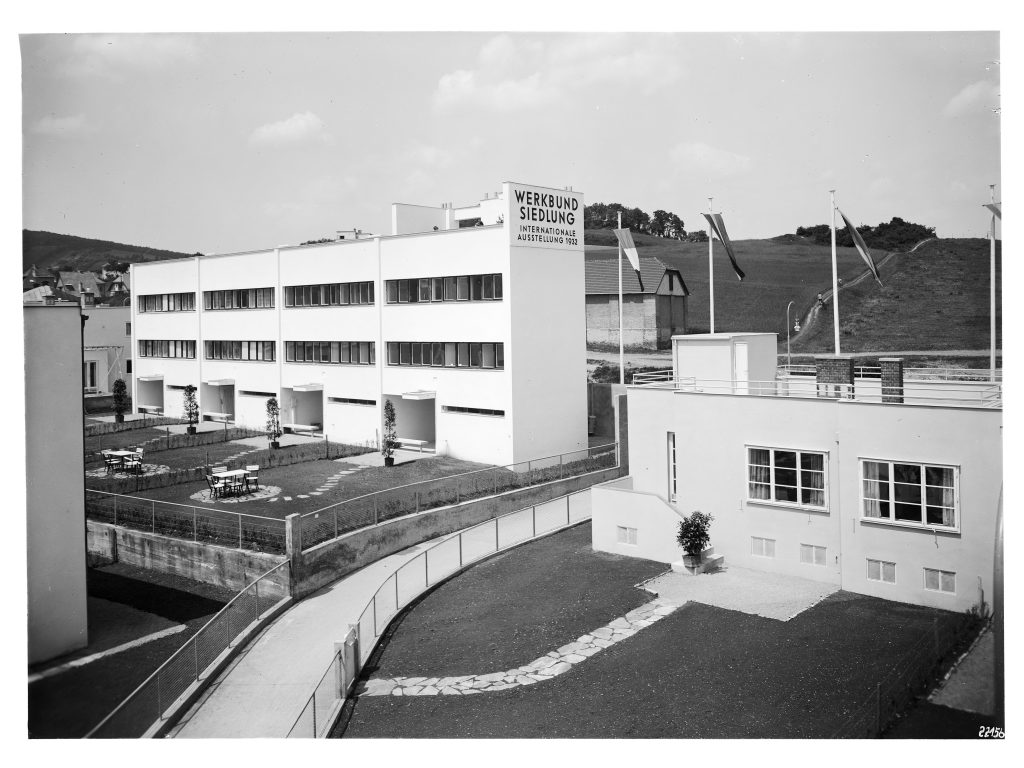 Event location: Architecture Museum Wroclaw (Poland)
Exhibition: 31 March 2016 – 5 June 2016
Opening hours: Tue, Fri, Sat, Sun 11am-5pm, Wed 10am–4pm, Thurs 12midday-7pm; closed Mondays
Tickets: 10 PLN / 7 PLN
Between 1927 and 1932 six Werkbundsiedlungen (housing estates by the Werkbund) were erected in Europe: the Weissenhof estate in Stuttgart (1927), the Nový dum estate in Brno (1928), the WuWA-estate in Wroclaw (1929), the Neubühl estate in Zürich (1931), the Baba estate in Prague (1932), and the Werkbundsiedlung estate in Vienna (1932). As a mouthpiece for the new culture of building these model estates in Germany, the Czech Republic, Poland, Austria and Switzerland are unique architectural monuments which reflect the political and social developments of the interwar period. The protagonists of the six housing projects presented indicate a European avant-garde that formed an international network with close biographical connections. An exciting chapter of European architectural history is also legible in the eventful history of how these estates functioned and how they were received. They were the expression of a belief that a modern democratic world produces mature responsible citizens who are clear about their housing needs.
To date there has never been an exhibition about these six Werkbund estates that has allowed parallels to be shown and differences examined. A comparison is worthwhile at several levels. Not only the history of how they were developed and the different intentions behind them, but also their metamorphoses over the last 80 years call for a closer look. A number of these estates were built just before the world economic crisis, whereas others began to feel its impact while under construction. Their current condition covers an entire spectrum ranging from freshly renovated to semi-ruinous or completely rebuilt.
The exhibition offers insights into the different house types in each of the estates, their architectural concepts and technical innovations; it presents portraits of the architects involved, illustrates the historical background and takes an in-depth look at the cultural history of the time.
Initiated by the Architecture Museum in Wroclaw, the exhibition was implemented through collaboration with the five other cities Stuttgart, Brno, Zurich, Prague and Vienna. The contribution about the Werkbundsiedlung in Vienna was curated by the Architekturzentrum Wien (Sonja Pisarik and Katrin Stingl).
STUTTGART 1927 / exhibition "The Apartment" – Weissenhof estate
Architects: Ludwig Mies van der Rohe, Adolf G. Schneck, Walter Gropius, Ludwig Hilberseimer, Bruno Taut, Max Taut, Hans Poelzig, Richard Döcker, Adolf Rading, Peter Behrens, Hans Scharoun – Germany; Jacobus Johannes Pieter Oud, Mart Stam – Netherlands; Victor Bourgeois – Belgium; Le Corbusier, Pierre Jeanneret – France; Josef Frank – Austria.
Urban planning concept: Mies van der Rohe
BRÜNN / BRNO 1928 / exhibition "Contemporary Czechoslovakian Culture" – Nový Dum estate (Brno – Zabovresky)
Architects: Hugo Foltýn, Bohuslav Fuchs, Jaroslav Grunt, Jiri Kroha, Miroslav Putna, Jaroslav Syrište, Jan Víšek, Arnošt Wiesner, Josef Štepánek.
Urban planning concept: Boguslav Fuchs, Jaroslav Grunt
BRESLAU / WROCLAW 1929 / exhibition "Apartment and Workspace" – WuWA (Dabie) estate
Architects: Paul Heim, Albert Kempter, Theodor Effenberger, Ludwig Moshamer, Heinrich Lauterbach, Paul Häusler, Moritz Hadda, Emil Lange, Gustav Wolf, Hans Scharoun, Adolf Rading.
Urban planning concept: Adolf Rading, Heinrich Lauterbach
ZURICH 1931 / exhibition – estate (Wollishofen)
Architects: Max Ernst Haefeli, Carl Hubacher, Rudolf Steiger, Werner Moser, Emil Roth, Paul Artaria, Hans Schmidt.
Urban planning concept: Werner Moser
PRAGUE 1932 / exhibition – BABA estate (Dejvice)
Architects: Mart Stam – Netherlands; Josef Fuchs, František Kerhart, Vojtech Kerhart, Ladislav Žák, Oldrich Starý, Evžen Linhart, Antonín Heythum, Jaroslav i Karel Fišer, Pavel Janák, František Kavalír, Hana Kucerová-Záveská, František Zelenka, Zdenek Blažek, Jan E. Koula, Josef Gocár, Ladislav Machon.
Urban planning concept: Pavel Janák
VIENNA 1932 / Exhibition – Lainz estate
Architects: Richard Bauer, Josef Hoffmann, Josef Frank, Oskar Strnad, Anton Brenner, Karl A. Bieber, Otto Niedermoser, Walter Loos, Adolf Loos, Eugen Wachberger, Clemens Holzmeister, Walter Sobotka, Oskar Wlach, Julius Jirasek, Ernst Plischke, Josef Wenzel, Oswald Haerdtl, Ernst Lichtblau, Hugo George, Hans A. Vetter, Max Fellerer, Otto Breuer, Grete Schütte-Lihotzky, Josef F. Dex, Helmut Wagner-Freynsheim – Austria; Hugo Häring – Germany; André Lurçat, Jacques Groag, Gabriel Guevrekian – France; Arthur Grünberger, Richard J. Neutra – USA; Gerrit Th. Rietveld – Netherlands.
Urban planning concept: Josef Frank
The exhibition "Az W in WROCLAW: The Path to Modernism. Werkbund Housing Estates 1927–1932", an exhibition in the framework of the 2016 European capital of culture, Wroclaw at the Architecture Museum Wroclaw (Poland)
Runtime: 31 March 2016 – 05 June 2016