Exhibition
Az W in TALLINN: BUS:STOP Krumbach
Thu 16.04.2015 – Sun 17.05.2015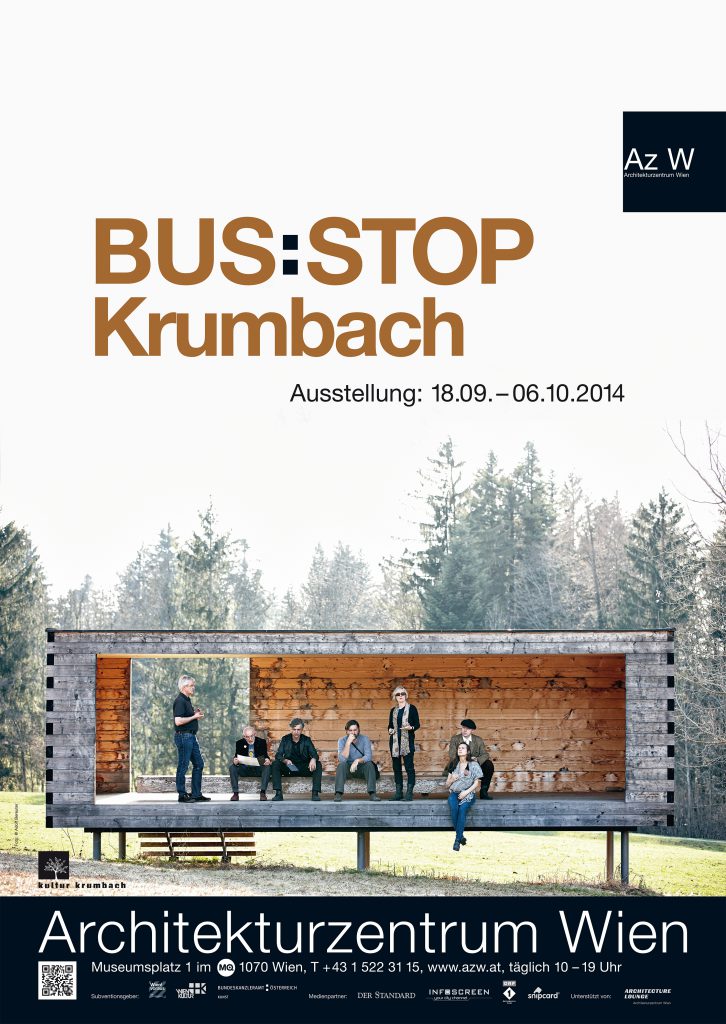 An exhibition by the association kultur krumbach in cooperation with vai Vorarlberger Architektur Institut
In the course of the year 2014 what started with an unusual idea from the association "kultur krumbach" developed into a sensation that has attracted worldwide attention. Seven internationally acclaimed architecture offices designed seven "little bus shelters" for the village of Krumbach in the Bregenzerwald region of western Austria where the new structures now engage in a dialogue with the people, landscape and tradition. With the assistance of architects from the region and local skilled craftspeople small functional buildings that resemble unusual sculptures were erected in public space, where they draw attention to the public bus transportation system.
This project started in 2012 with a vague idea derived from need to renovate a number of bus shelters in the area around the village. What then resulted is the outcome of unusual collaboration in which around 300 people took part voluntarily and, for the "fee" of a week's holiday in the Bregenzerwald, seven internationally known architects designed projects in which they intensively examined the landscape, the architecture and the skilled handcraft of the region.
The exhibition presents models, photographs and films that offer an insight into the cultural landscape of the Bregenzerwald, the regional architecture and skilled handcraft scene and the bus shelters made in this context by the architects Alexander Brodsky (Russia), Rintala Eggertsson Architects (Norway), Architecten de Vylder Vinck Taillieu (Belgium), Ensamble Studio/Antón García-Abril and Débora Mesa (Spain), Smiljan Radic (Chile), Amateur Architecture Studio/Wang Shu and Lu Wenyu (China), and Sou Fujimoto (Japan) .
This project tells a tale of the strength of communal action. The story of an idea about creating something jointly and subsequently taking delight in what has been achieved. In addition to this delight the project BUS:STOP Krumbach illustrates how a community can deal in a responsible way with questions about the design of public space. The culture of building is revealed as a process that can actively develop further if certain parameters come together: above all the involvement and commitment of courageous citizens. Here the encouragement of high-quality contemporary architecture is of equal importance to the cultivation of the architectural legacy and the further development of a living tradition of handcraft. The perfection and mastery in the use and detailing of the different materials – above all wood, glass and metal – from which the seven little bus shelters were built, sets high standards for which this region is known.
Curator of the project: Dietmar Steiner, Director Az W
Curator of the exhibition: Verena Konrad, Director vai
This exhibition is supported by the association kultur krumbach.