Exhibition
Az W in Napa: The Austrian Winery Boom
Fri 28.03.2008 – Sun 25.05.2008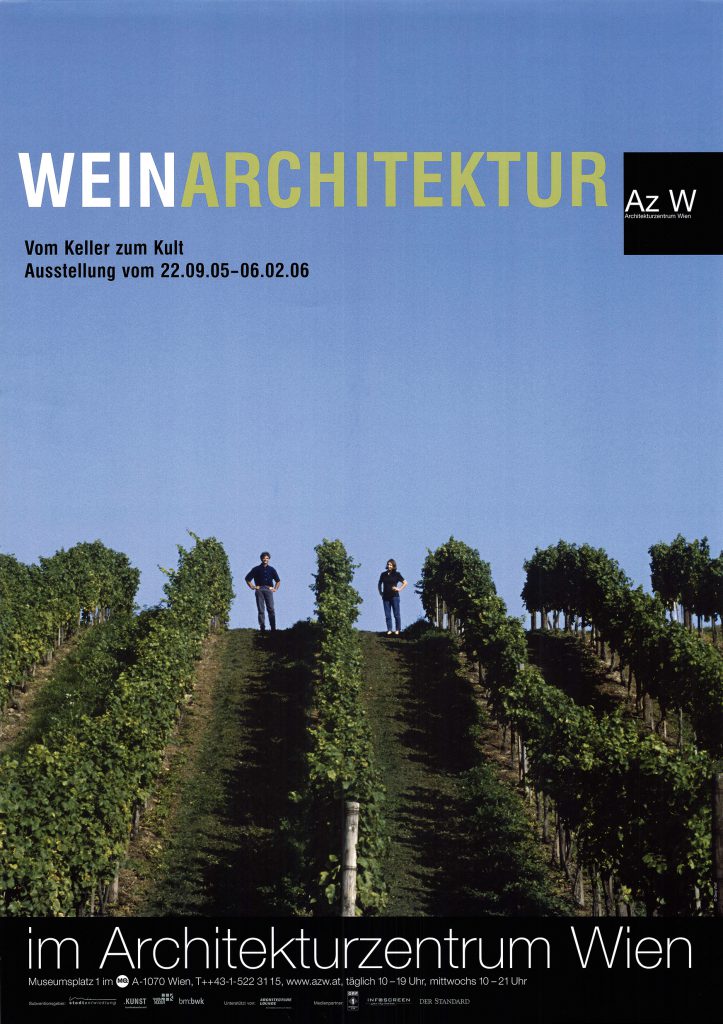 While international star architects are today designing and building spectacular new wineries around the world, a new and internationally unique scene of sustained symbiosis between contemporary architecture and viniculture has emerged in the east and southeast of Austria. The exhibition "The Austrian Winery Boom" presents for the first time a detailed survey of the new building tradition inspired by Austria's new generation of quality wine makers.
The Genesis of Wine Architecture
For a number of years, Architekturzentrum Wien has been observing exciting new developments in the relation between wine and architecture. In the 1980s, France and Napa Valley, California inaugurated a new era of wine architecture: a 1988 exhibition at the Centre Pompidou, Paris, entitled "Châteaux Bordeaux" was the first to address the significant role architecture plays in the cultural mediation of wine. At the same time, winegrowers in California explored new and aggressive marketing and publicity concepts and began to market wine through architecture. The central message was: wine is not alcohol, wine is culture. During the same years, Austria made international headlines with its 1985 wine scandal. As a consequence, those vintners who aimed for quality increasingly positioned themselves on international markets in order to boost the reputation of Austrian wines. Moreover, a new generation of vintners taking over many wineries, the adoption of internationally accepted production and quality standards, the reorganization of many wineries (from part-time to full-time operations), and—an additional stimulus—regional and European Union subsidies led many vintners to enlarge or alter their premises. Aspects of marketing and corporate architecture did not play an important role in this process; rather, vintners sought architectural and functional solutions to match the production of quality wines.
The Austrian Wine Miracle
With its 2005 exhibition "WeinArchitektur. Vom Keller zum Kult," Architekturzentrum Wien proclaimed a new Austrian "Silicon Valley of Wine." Vinification has moved out of garages between Gols and Gamlitz; now, elegant exposed-concrete structures and well-designed wooden stalls set the stage for the creation and optimized production of fine wines, for stylish wine-tastings and lively discussion. The hallmark and the astonishing feature of the Austrian situation is the great number of high-quality projects that have been completed over the past 20 years: Austrian vintners have entered into an extraordinarily widespread and successful alliance with contemporary architecture unmatched by any other industry. Just as the industrialization of the 19th century redefined entire areas with the architectonic typologies of its factories, Austrian viniculture has today created a regional architectonic identity. The collaboration between vintners and architects is based, on the one hand, on the fact that changing technical standards made spaces of high logistical and technological sophistication necessary; a complex set of problems for which professional partners were found. On the other hand, young architects, having completed their training in Vienna or Graz, returned to their regional roots and brought contemporary architecture to the countryside. In some cases, conversations between architects and vintners about the pleasures of wine and their professions started with architects buying wines. Three Austrian architects (Hempel + Fonatti, Anton Mayerhofer, and Werner Schüttmayr) made decisive contributions to framing the new architectonic typology and establishing model examples of collaborations between vintners and architects. The projects developed from the functional buildings of the early 1990s, which followed the vintners' precisely laid-out production organigrams, to pieces of more and more innovative and experimental architecture. Only the broad basis of architecture commissioned by vintners made today's outstanding achievements possible. The 43 projects of committed architecture in the Burgenland, in Vienna, Lower Austria, and Styria offer translations into spatial terms of a new and confident wine culture. Wine Architecture today offers an image of the young and contemporary regional architectural production in eastern Austria.
The Exhibition
Architekturzentrum Wien's 2005 exhibition "WeinArchitektur. Vom Keller zum Kult" ["WineArchitecture. From Cellar To Cult"] has been redesigned for the Austrian Cultural Forum New York. In addition to a nuanced survey of the cultural and economic situation in Austria since the 1980s, the exhibition offers a study, in 43 projects, of the development from the manor winery to the high-tech wine factory. Individual buildings and architectonic interventions are presented with a wide variety of materials such as blueprints, photographs, models, and sketches, but also individual vintners' and wineries' wine bottles. The individual projects are displayed in a modular system of plexiglass containers of three different sizes made in Vienna using advanced digital manufacturing technology. This innovative exhibition design is the work of SPAN (Matias del Campo and Sandra Manninger), who not only conduct extensive research (in Europe and the US) into digital design and manufacturing processes and new high-tech materials, but also realize these technologies in numerous installations and exhibition designs.
Exhibition at the Architekturzentrum Wien, 09/22/2005 – 02/06/2006:
Curator: Kerstin Gust
Assistant curator: Martina Grabensteiner
Exhibition assistant: Marion Kuzmany