Exhibition
Az W in MADRID: Margherita Spiluttini. Atlas Austria
Thu 09.02.2006 – Sun 16.04.2006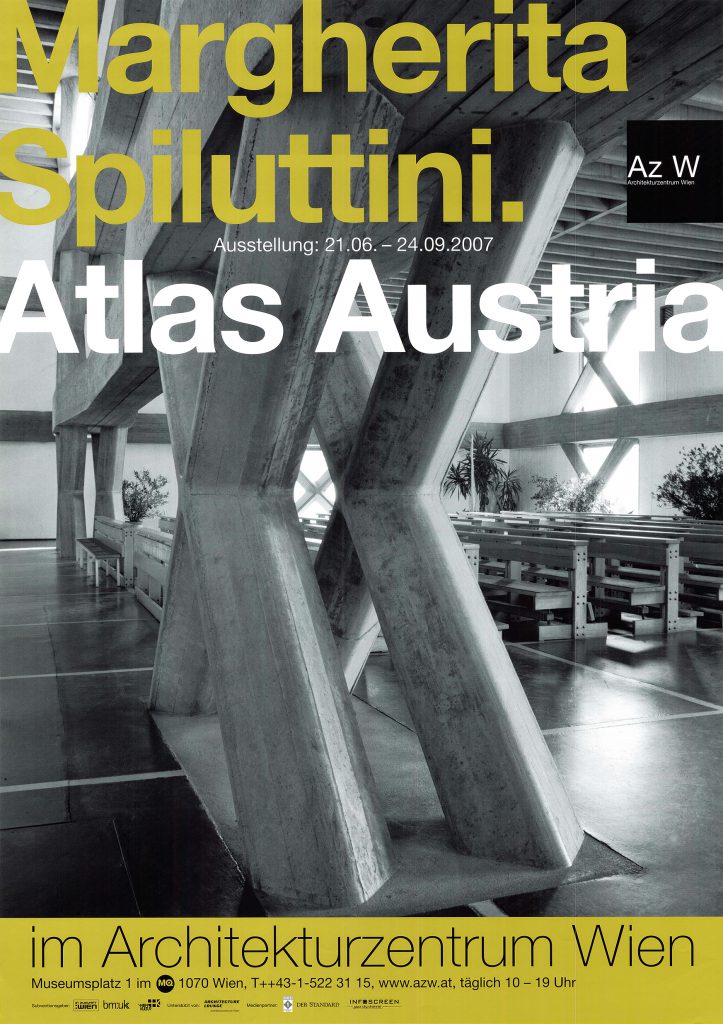 From February 9 to 13 2006, Austria will be the special guest country at ARCO(the Feria International de Arte Contemporanea) in Madrid. Following a commission by the Austrian State Secretary for the Arts and Media, Franz Morak
, a multi-faceted programme which aims at presenting Austria in a comprehensive manner has been devised by major Austrian art institutions. An exhibition programme featuring all areas of contemporary art, including digital art, architecture and design is the result of this collaboration.
All representative exhibitions on contemporary Austrian architecture are compiled from such an immeasurable store of high quality projects and buildings that they are always open to the criticism of being the result of a more or less random choice. A conceptually based approach is required, a special message on which the selection is based. While on an international level there is an increasing tendency for architecture mediation to specialise in media like film and renderings, the exhibition Margherita Spiluttini. Atlas Austria is going back to the original key medium of analogue images.
The exhibition focuses on the translation of contemporary architecture into a single photographer's visual language. Around 25 years ago Margherita Spiluttini re-established Austrian architecture photography, and is today one of the genre's most significant proponents on an international level. In the first half of the nineteen-eighties she accompanied the regular architecture critiques by Otto Kapfinger and Dietmar Steiner in the Vienna-based daily newspaper «Die Presse» with her photographs. Exhibitions of specific photographic projects followed. With commissions for publications, catalogues, guided tours and books accumulating in her archives over the years she now probably has the most representative collection there is of Austrian architecture photography. Margherita Spiluttini has documented all of the significant contemporary buildings in Austria, but she has also subjected historical objects such as the Wittgenstein House to photographic analysis. Alongside these projects she has been compiling an independent series of artwork on the Austrian landscape.
The concentration on Spiluttini's interpretation of more recent architecture history has provided us with a complete survey of Austria in photographs. With these images she also demonstrates an artistic intention which has never been to concentrate only on the respective assignment and the building as such, but to communicate the future, progress and development of architecture as a whole.
In collaboration with the photographer, about 50 buildings were selected from her archives of contemporary Austrian architecture in the fields of Art, Education, Work, Mobility, Consumerism, Leisure and Housing, the content of which is to be illustrated in more depth with models and comprehensive portfolios of plans. This is to be further supplemented by a banner of images from Spiluttini's work stretching through the space, addressing themes such as Interior, History and especially Landscape.
The exhibition develops a unified three-dimensional visual vocabulary – an Austrian 'Photo Atlas', a conceptual art installation with the message 'Architecture', one that will prove especially interesting and easy to communicate to ARCO visitors in particular.
Concept: Dietmar Steiner
Projectmanagement: Katharina Rittter
Exhibition architecture/graphic: Paul Petritsch & Nicole Six with Annja Krautgasser
Views of the exhibition 'Margherita Spiluttini – Atlas Austria' shown in ARQUERIA DE NUEVOS MINSTERIOS at the ARCO 06 in Madrid.
Biography Margherita Spiluttini
since 1981 freelance photographer
1996 Austrian Award in Appreciation of her work in the field of artistic photography
1997 Award of the City of Vienna
2004 Grand Salzburg Award for fine arts
lives in Vienna
Exhibitions (selection)
1985 "Vier Wege", Museum of Modern Art Vienna (catalogue).
"Wiener Wohnbau Wirklichkeiten", Künstlerhaus Vienna (catalogue).
1987 Secession, Vienna (catalogue). (SE)
1990 Faber Gallery, Vienna (SE)
1991 5th International Architecture Exhibition – Biennale di Venezia 1991,
Photo Installation at the Swiss Pavilion, Jacques Herzog&Pierre de Meuron (catalogue).
Start of the touring exhibition "Neue Häuser – Architekturfotografie M.S." – up to 1997 at 25 international exhibition sites (catalogue). (SE)
1992 "Die Form der Zeit", Böhlerhaus Vienna, in cooperation with Gang Art (catalogue). (SE)
1994 Museum der Wahrnehmung, Steirischer Herbst, Graz (SE)
1995 "fem.art. Fotografische Obsessionen", Fluss, Wolkersdorf (catalogue).
"Stadt in Latenz", Offenes Kulturhaus, Linz (catalogue).
1996 "Antagonismes", Centre National de la Photographie, Paris (catalogue).
"Topographie Österreich", Fotohof Gallery, Salzburg
6th International Architecture Exhibition – Biennale di Venezia 1996,
"Photographers of Architecture" (catalogue).
1997 Fotogalerie, Wien (SE)
Fotohof Gallery, Salzburg (SE)
Kunstforum Montafon (SE)
"Alpenblick", Kunsthalle Wien (catalogue).
1998 "Transfiction", Charim Klocker Gallery Vienna
1999 S. Donat Gallery, Piran (SE)
2001 Architektur Galerie Berlin – Ulrich Müller (catalogue)
The Waste Land. Desert and Ice. Barren Landscapes in Photography, Atelier Augarten, Österreichische Galerie Belvedere, Wien, (catalogue)
2002 Beyond nature. Constructions of landscape, Technisches Museum, Wien, (SE), (catalogue)
2003 Galerie Dittmar, Berlin (SE)
Architekturgalerie Luzern (SE)
Helmhaus Zürich (catalogue)
2004 Architectural Association London (SE)
9th International Architecture Exhibition – Biennale di Venezia 2004 (catalogue)
(SE = solo exhibition)