Exhibition
Az W Gold
The Collection
Thu 21.03.2013 – Mon 22.07.2013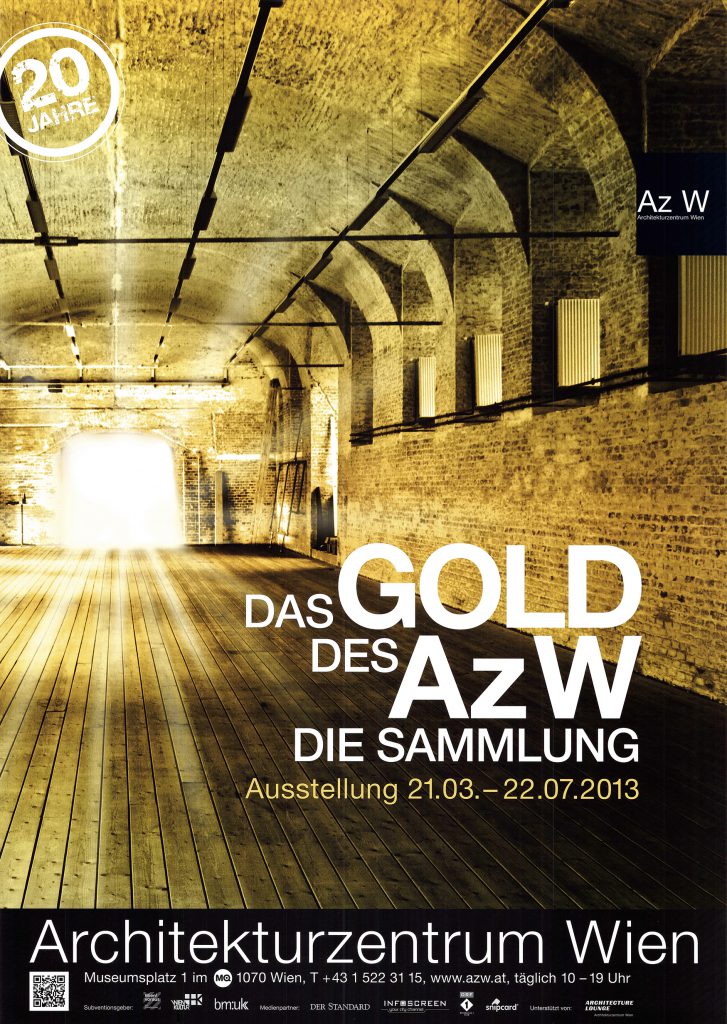 Speakers at the opening:
Dietmar Steiner, Director Az W
Curators of the Exhibition
Ursula Pasterk, Former Executive City Councillor for Cultural Affairs
Andreas Mailath-Pokorny, Executive City Councillor for Cultural Affairs and Science
The Exhibition:
The Architekturzentrum Wien is turning 20! Exactly the right time for a special exhibition that directs the spotlight on the previously unknown Az W collection. From spring 2013 a show of the most interesting objects in the collection will make 'Az W Gold. The Collection' both accessible and visible.
The anniversary exhibition uses design drawings, plans, sketch books, photos and models to document important epochs in the history of Austrian architecture and includes exceptional designs, pioneering buildings, previously little known gems and unique buildings, mostly by Austrian architects. The exhibition shows not only the highlights of the Az W collection, but also gives visitors a comprehensive view behind the scenes of archive work and takes a look at the origins of donations and bequests and the tools that are needed to process them. The very latest accessions are also presented.
More than 630 people interested in architecture contributed by voting for their favourite project from the Az W Collection. The Az W Gold presents visitors with an opportunity to take an open look at the entire architectural inheritance, as a discovery, a statement and a confirmation.
Curators of the Exhibition: Sonja Pisarik, Monika Platzer, Katrin Stingl, Ute Waditschatka
Exhibition Design: BWM Architekten und Partner
Exhibition Graphics: Perndl+Co
Public Funding:
Geschäftsgruppe Stadtentwicklung und Verkehr
Bundesministerium für Unterricht, Kunst und Kultur
Geschäftsgruppe Kultur und Wissenschaft
Sponsor: ARCHITECTURE LOUNGE
The opening of the exhibition 'Az W Gold. The Collection', 20 March 2013 at the Architekturzentrum Wien.