Lecture
Az W Classics: Hans Puchhammer: Marginal Notes
Wed 15.06.2011, 19:00-21:00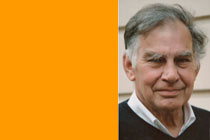 Dietmar Steiner, director of the Az W: welcome address
Klaus Semsroth, dean of the Faculty of Architecture & Planning, TU Wien: words of greeting (cancelled)
András Pálffy, department for theory and design at Vienna University of Technology: introduction
Hans Puchhammer, lecture
Hans Puchhammer studied architecture (1949–1956) at Vienna University of Technology (TU Wien), from 1950 to 1954 he worked at Roland Rainer's studio. Brought up in a civil engineer's family and infected with the Wachsmannesque interest in construction systems since he had attended the 1956 Salzburg Summer Academy, Puchhammer consistently pursues the structural and economic aspects of building. He was active as a freelance architect from 1956, and from 1958–1978 he completes key works in collaboration with Gunther Wawrik: the Siedlung Goldtruhe estate in Brunn am Gebirge (1965–1966), the Landesmuseum in Eisenstadt (1967–1976) and the Grothusen office building in Vienna (1971). Intense travel, inspired by Bernard Rudofsky's classic 'Architectur Without Architects, took Hans Puchhammer to the sites of striking examples of anonymous architecture. A large number of drawings completed on location reflect the architect's specific point-of-view. Puchhammer's work is distinguished in particular by his approach to building on the existing substance, exemplary of this are the conversion and general renovation of the Vienna Konzerthaus (1997–2001) as well as a subtle extension to a house by Rainer on the am Mauerberg estate — Puchhammer always achieving a dialogue between the old and the new. His credo that "building can be architecture" represents his undogmatic mediation of architecture as a professor for high-rise building and design at Vienna University of Technology (1978–1994).
Hans Puchammer celebrates his 80th birthday on 13.05 — we end by congratulating him, and celebrating!
Free admission!
Photos from the event 'Az W Classics: Hans Puchhammer: Marginal Notes', Juni 15 2011 at the Architekturzentrum Wien.