Presentation
Award Ceremony 'Das beste Haus 2013″
Wed 24.04.2013, 19:00-21:00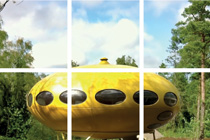 The award ceremony takes place at the Hofstallung at the MQ!
Speakers
Bernd Hartmann, Bundesministerium für Unterricht, Kunst und Kultur
Josef Schmidinger, Bausparkasse der österreichischen Sparkassen AG
Dietmar Steiner, Architekturzentrum Wien
This year the prize for 'Das beste Haus' (The Best House) is being organised for the fifth time by the s Bausparkasse in conjunction with the bm:ukk and the Az W. With the help of regional architecture institutions in Austria 'the best House' in each of the country's federal states was selected from a total of 112 entries.
Among this year's finalists, which range from a self-build project to a villa, a clear trend towards natural and untreated building materials could be identified. In addition the projects include a greater number of conversions and extensions in which a strong awareness of the contextual agreement of old and new is evident. Harmonious integration in the landscape is also acquiring increasing importance.
The prizes for the nine winning projects will be presented at the award ceremony in the Az W. Together with other remarkable nominations they will be shown in an exhibition that will later tour Austria.
Event held in German
Admission free!