Exhibition
At the Az W: Vienna City Ship Station Architecture Competition
Fri 13.04.2007 – Wed 18.04.2007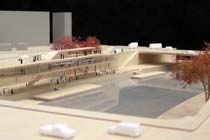 The Ländenbetriebsgesellschaft Wiener Donauraum is planning a new multifunctional Wien City ship station in the First District of Vienna, and launched an architecture competition for the project at the beginning of 2006 to which entries were submitted by seven well-known architects' offices from Slovakia, Italy and Austria:
ARTEC Architekten, Vienna
fasch&fuchs, Vienna
Dusan Fischer, Bratislava
Massimiliano Fuksas, Roma
Ivan Jarina, Bratislava
Boris Podrecca, Vienna
querkraft architekten, Vienna
The decision for the best proposal fell in the same year in favour of fasch&fuchs, whose design most convinced the jury.
The Wien City ship station is to serve as a central departure point for the promenade along the Donaukanal, and as a kind of gateway to Bratislava. The station is not only a boarding point for the of the DDSG Blue Danube cruise ship but also for the high-speed boat Twin City Liner, which has been providing a service between Vienna and Bratislava since summer 2006. In addition, the elegant two-storey open building is to provide space for catering, shopping, exhibitions and events. Furthermore, it should serve as an information platform for the many attractions of the partner city, Bratislava.
The winning projects are being shown for the first time, along with the other projects submitted to the competition, in an exhibition in Halle 3 of the Architekturzentrum Wien.