Exhibition
At the Az W: Through Maidan and Beyond
Tue 18.11.2014 – Sat 29.11.2014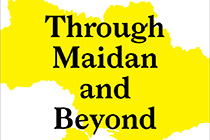 Through Maidan and Beyond includes works by artists from Ukraine, who respond to the events unfolding in the country, study the circumstances preceding the change, and envision a new society. The project aims to show the Kyiv contemporary art scene to a European audience.
The exhibition presents works by twenty-three emerging and established artists, including Zhanna Kadyrova, Nikita Kadan, Vlada Ralko, Boris Mikhailov and Sergey Bratkov. The project develops a fresh view on the importance of European values during the Ukrainian protests by constructing ties between the Ukrainian and European cultural scenes.
The viewers get access to a multitude of first-hand experiences of the Ukrainian events, and to a variety of views on them. All the stories have a human dimension. Also, the general line of the show reveals individual and collective values that the European public may find familiar and recognizable. The exhibition is accompanied by a program of discussions and artist talks.
The project is organised by Kyiv Vision Foundation and curated by Kyiv Platform for Contemporary Art.
The exhibition, supported by Federal Ministry for Europe, Integration and Foreign Affairs of Austria and Ministry of Foreign Affairs of Ukraine is part of the program of Vienna Art Week 2014.