Symposium
At the Az W: Smart city – smart housing
New Developments in aspern Vienna's Urban Lakeside
Mon 11.03.2013, 10:00-12:00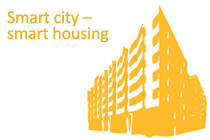 Registration required: www.wohnbaufestwochen.at
Followed by the inauguration of the exhibition "aspern Die Seestadt Wiens. Eine Reise in die Zukunft des Wohnens"
By implementing a smart city vision, the City of Vienna aims at providing sustainable answers for the energy supply and mobility of the future. And very successfully, too: recently, the Austrian capital was defined the "smartest city of the world" – i.e. the city with the best combination of sustainability, energy efficiency, resource conservation and quality of living worldwide – by a U.S. climate strategist.
This symposium addresses the role played by the smart city vision in the overall planning of aspern Vienna's Urban Lakeside and the ways and means to implement this goal in individual relevant housing projects. Superordinate "smart" planning parameters are thus linked to manifold housing qualities, such as flexible layout design, alternative housing types, ecological construction methods or participation options for future residents. Against this backdrop, the symposium will discuss the smart city concept from different viewpoints and present model solutions derived from housing construction practice.
Speakers & discussants will inter alia include
Michael Ludwig (Executive City Councillor for Housing, Housing Construction and Urban Renewal of the City of Vienna)
Thomas Madreiter (Director of Urban Planning, City of Vienna)
Event in German
Admisison free!