Exhibition
At the Az W: MESSECARREE_Nord
The Wiener Messe Besitz GmbH presents the submitted projects
Fri 24.11.2006 – Thu 07.12.2006
daily 10am-7pm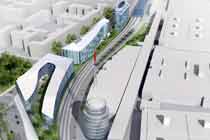 As one of the City of Vienna's 13 official urban development zones the urban fabric of the Prater-Messe-Krieau-Stadion district is currently undergoing massive changes.
Projects in this area – such as the Messe- and Kongresszentrum, the Messehotel, Viertel Zwei, the Stadion Center and, above all, the extension of the U2 underground line – have provided decisive impulses for the development of the area.
From the outset the Wiener Messe Besitz GmbH has always striven to achieve a suitably designed setting in this sensitive urban development zone, and to find the best possible urban development concepts by holding competitions.
In this context, at the start of April 2006 an anonymous two-stage open competition was held across Austria to find ideas for the approx. 16,000 square metre MESSECARREE_Nord site. The aim of the competition was the development of urban development structures in the form of a pilot project that does justice to the STEP '05 urban development plan and provides the greatest possible potential for multifunctional usage.
At the end of June, five out of the 24 submitted projects were selected for development and qualified for the second round of the competition in October. The project that won was by the architects Silja Tillner and Regina Freimüller-Söllinger. The jury based their decision, among other factors, on the high quality of the outdoor spaces and the extrusion of freely accessible green space on the whole site.
All of the projects submitted to the competition are to be shown for the first time in the exhibition in Halle F3 of the Architekturzentrum Wien, in the form of plans and models. A model of the location shows the immediate relationship between the site and its setting, as well as the concrete situation.
Architects in the first round
Atelier 4 architects
Karl Brodl + Christian Marchart
BUS architektur & Partner
CAP Chalabi architekten & Partner GmbH
Ceska Priesner Architektur
Martin Feiersinger
Robert Felber
Fellerer – Vendl Architekten
Silvia Fracaro
Herzog_Hrabal ZT OEG
Hofrichter – Ritter Architekten
Karlheinz Hollinsky & Partner ZT GmbH
Hoppe Architekten Ziviltechniker GmbH
Kaitna Smetana ZT GmbH
Paul Katzberger
Mascha & Seethaler
W. Mayr
Neumann + Partner
Peichl & Partner ZT GmbH
pool Architektur ZT GmbH
Rudolf Prohazka
ARGE Stadtgut – Franz Denk
ARGE Tillner & Partner ZT GmbH + Regina Freimüller-Söllinger
Peter Thalbauer
Architects in the second round
Atelier 4 architects
Martin Feiersinger
Mascha & Seethaler
Rudolf Prohazka
ARGE Tillner & Partner ZT GmbH + Regina Freimüller-Söllinger
Rendering of the the winning project by ARGE Tillner & Partner ZT GmbH + Regina Freimüller-Söllinger.