Exhibition
At the Az W: Light Faces
An Exhibition of Portrait Photography by Paul Graham, Adam Fuss and Shirana Shabazi
Wed 27.07.2005 – Sun 07.08.2005
daily 10am-7pm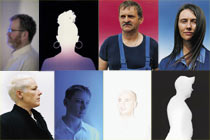 Light Faces – people as silhouettes, a game of light and colour, reduction and alienation, character studies in sharp focus. The Zumtobel Group exhibition "Light Faces" displays the diversity of the company's workforce from around the world, the people behind the Group's three brands, their pride and passion, loyalty and expertise.
In their own artistic styles and in keeping with the positioning of the Group brands, three internationally renowned photographic artists – Paul Graham for Zumtobel Staff, Adam Fuss for TridonicAtco and Shirana Shahbazi for Thorn – "brought to light" a selection of the Group's employees.
Welcome Address
Dietmar Steiner, Director, Architekturzentrum Wien
Andreas J. Ludwig, Chief Executive Officer Zumtobel Group
Martin Jäggi, Writer and Critic, Zurich
The "Light Faces" art project was initiated in preparation for the latest edition of the Austrian lighting group's annual report, the 14th in a series of artistically designed Zumtobel Group reports.