Lecture
At the Az W: Housing 2025 – A Perspective
Thu 21.03.2013, 17:00-18:30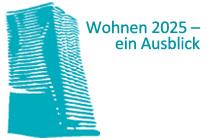 Registration required: www.wohnbaufestwochen.at
Followed by the closing party of the Vienna Housing Festival 2013
The city is changing, and Vienna's population is diversifying more and more with regard to lifestyle models and choices as well as socioeconomic backgrounds. The growing variety of urban society also entails more differentiated demands that must be met by housing policy. What will be the faces of housing in the city of the future? Short statements by experts from numerous areas – visionary, pragmatic, graphic, provocative and in any case highly individual – will provide a multifaceted perspective and ample food for talks at the closing party of the Vienna Housing Festival 2013.
Statements will be inter alia delivered by
Kenan Güngör (Büro [difference:] Vienna)
Alexander Keul (University of Salzburg)
Ramesh Biswas (Atelier Biswas Vienna/Berlin/Kuala Lumpur)
Admission free!